Publication:
Valganciclovir—Ganciclovir Use and Systematic Therapeutic Drug Monitoring. An Invitation to Antiviral Stewardship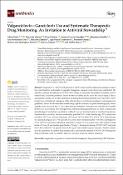 Advisors (or tutors)
Editors
Abstract
Valganciclovir (VGCV) and ganciclovir (GCV) doses must be adjusted according to indication, renal function and weight. No specific therapeutic exposure values have been established. We aimed to evaluate the adequacy of VGCV/GCV doses, to assess the interpatient variability in GCV serum levels, to identify predictive factors for this variability and to assess the clinical impact. This is a prospective study at a tertiary institution including hospitalized patients receiving VGCV/GCV prophylaxis or treatment. Adequacy of the antiviral dose was defined according to cytomegalovirus guidelines. Serum levels were determined using High-Performance Liquid Chromatography. Blood samples were drawn at least 3 days after antiviral initiation. Outcome was considered favorable if there was no evidence of cytomegalovirus infection during prophylaxis or when a clinical and microbiological resolution was attained within 21 days of treatment and no need for drug discontinuation due to toxicity. Seventy consecutive patients [74.3% male/median age: 59.2 years] were included. VGCV was used in 25 patients (35.7%) and GCV in 45 (64.3%). VGCV/GCV initial dosage was deemed adequate in 47/70 cases (67.1%), lower than recommended in 7/70 (10%) and higher in 16/70 (22.9%). Large inter-individual variability of serum levels was observed, with median trough levels of 2.3 mg/L and median peak levels of 7.8 mg/L. Inadequate dosing of VGCV/GCV and peak levels lower than 8.37 or greater than 11.86 mg/L were related to poor outcome. Further studies must be performed to confirm these results and to conclusively establish if VGCV/GCV therapeutic drug monitoring could be useful to improve outcomes in specific clinical situations.
Collections