Publication:
Estudio de marcadores genéticos e inmunitarios relacionados con inmunoterapia en cáncer gástrico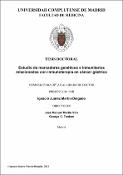 Files
Advisors (or tutors)
Editors
Publisher
Universidad Complutense de Madrid
Abstract
El cáncer es una enfermedad multifactorial con una serie de características definitorias: mantenimiento de las señales de proliferación, resistencia a la muerte celular, inmortalidad replicativa, inducción de angiogénesis, motilidad y metástasis, inestabilidad genómica y mutación, inflamación pro-tumoral, reprogramación del metabolismo energético y evasión de la respuesta inmunitaria antitumoral. Como parte de esta última característica, destaca la implicación del sistema inmunitario en la respuesta antitumoral, siguiendo un proceso denominado inmunoedición, que se compone de tres fases: eliminación del tumor por parte del sistema inmunitario, equilibrio entre la respuesta inmunitaria y los mecanismos supresores del tumor y, finalmente, escape del tumor e invasión de tejidos adyacentes y distales. El cáncer gástrico es el quinto tipo de tumor más frecuente en la población mundial, con más de un millón de muertes anuales en todo el mundo. Es uno de los tumores con mayor prevalencia de mutaciones somáticas, lo que facilita la formación de neo-antígenos tumorales y hace susceptible estos tumores para su tratamiento con diversos tipos de inmunoterapia. La inmunoterapia comprende una serie de tratamientos que promueven la estimulación del sistema inmunitario tendentes a la prevención o tratamiento de una enfermedad. La inmunoterapia contra el cáncer tiene como objetivo el bloqueo de vías de señalización protumorales, así como la estimulación (directa o indirecta) de la respuesta inmunitaria contra los tumores. En el caso concreto del cáncer gástrico, el tratamiento con anticuerpos bloqueantes de HER2 (trastuzumab) se emplea en emplea en pacientes HER+, mientras que los inhibidores de puntos del control del sistema inmunitaria únicamente están aprobados para el tratamiento de pacientes en estadios muy avanzados de la enfermedad, con enfermedad diseminada, y refractarios a quimio y radioterapia. La dificultad para el tratamiento de estos pacientes radica en la correcta determinación de biomarcadores que identifiquen a pacientes susceptibles de recibir inmunoterapia...
Cancer is a multifactorial disease with a series of defining characteristics, including: maintenance of proliferation signals, evasion of proliferation suppressors, resistance to cell death, replicative immortality, induction of angiogenesis, evasion and metastasis, genomic instability and mutation, protumor inflammation, reprogramming of energy metabolism and evasion of antitumor immune response. As part of this last characteristic, it is important to highlight the involvement of the immune system in the anti-tumour response, following a process called immunoediting, which consists of three phases: elimination of the tumor by the immune system, balance between the immune response and the tumor suppressor mechanisms and, finally, escape from the tumor and invasion of adjacent and distal tissues. Gastric cancer is the fifth most common type of tumor in the world's population, with over one million deaths worldwide each year. It is one of the tumors with the highest prevalence of somatic mutations, which facilitates the formation of tumor neo-antigens and makes these tumors susceptible to treatment with various types of immunotherapy. Immunotherapy is a series of treatments based on the prevention or treatment of a disease that promotes the stimulation of the immune system. In this line, there are a number of treatments based on immunotherapy against cancer that aim to block pro-tumor signaling pathways as well as the stimulation (direct or secondary) of the immune response against tumors. In the specific case of gastric cancer, treatment with HER2-blocking antibodies (trastuzumab) is used in HER+ patients, while immune system checkpoint inhibitors are only approved for the treatment of patients in very advanced stages of the disease, with disseminated disease, and refractory to chemo and radiotherapy. The difficulty for the treatment of these patients lies in the correct determination of biomarkers that identify patients susceptible to receive immunotherapy...
Description
Tesis inédita de la Universidad Complutense de Madrid, Facultad de Medicina, leída el 25/01/2021
Collections