Publication:
Escher I: Las matemáticas para construir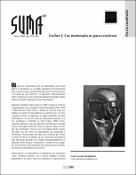 Authors
Advisors (or tutors)
Editors
Publisher
Universidad de Zaragoza. ICE
Citation
CIPRA, Barry, 1999, "But Is It Math?", en What´s Happening in the Mathematicas Sciences 4 (1998-999), AMS. COSTA GONZÁLEZ, A., 1995, Arabescos y Geometría, Videos UNED. COXETER, H.S.M., 1957, "Cristal symmetry and its generalizations",Royal Soc. Canada (3) 51. ESCHER, 2004, Escher, la vida de las formas, catálogo de la exposición,Fundació La Caixa. ERNST, B., 1976, The magic mirror of M.C. Escher,Ballantine Books. LENSTRA, H. W. y de SMIT, B., 2003, "The Mathematical Structure of Escher's Print Gallery", Notices of the AMS (4) 50. MAZUR, Barry (s.a.) "Plus symétrique que la sphère", Per la science 41. PÓLYA, George, 1924, "Sobre la analogía de las simetrías del cristal en el plano", Zeitschrift für Kristallographie.
Collections