Publication:
Huellas neoplatónicas en la poesía contemporánea: Antonio Colinas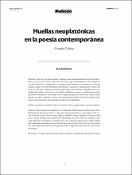 Authors
Advisors (or tutors)
Editors
Publisher
Asociación Cultural Cancro
Abstract
Parte de la poesía española contemporánea, fundamentalmente la poesía del silencio y la poesía de tendencia más hermética, ha recuperado la influencia del neoplatonismo alejandrino de la Antigüedad y el neoplatonismo florentino renacentista. En Antonio Colinas, ambas corrientes filosóficas contribuyen a construir el pensamiento poético del autor, no sólo bajo el influjo de nombres particulares como Plotino o Marsilio Ficino sino también bajo ideas clave como las de unidad, totalidad y armonía o las referencias a obras pictóricas renacentistas. Este trabajo busca indagar en el proceso poético por el que Colinas articula conceptos opuestos en busca de su armonización, tales como luz/oscuridad, vida/muerte, divino/humano, al abrigo de esta influencia neoplatónica.
Both Alexandrian Neoplatonism (Hellenistic and Roman periods) and Florentine Neoplatonism (Renaissance) live on Spanish Contemporary Poetry, particularly in the poetry of silence and the Hermeticism in poetry. Antonio Colinas combines in his poetry and in his literary thought both traditions of Philosophy, not only under the influence of its main exponents as Plotinus or Marsilio Ficino, but under key ideas such us Unity, Totality and Harmonia or extensive references to Renaissance painting. In this work, we aim to deep into this Neoplatonic influence through binomials as light/darkness, life/death, the divine/the human.
Collections