Publication:
El modelo de doble eje como base de organización del sistema verbal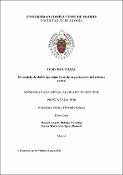 Files
Advisors (or tutors)
Editors
Publisher
Universidad Complutense de Madrid
Abstract
Este trabajo se ocupa del sistema verbal español, uno de los temas fundamentales del estudio de nuestra lengua, por cuanto se encuentra relacionado con categorías que se encuentran en el centro mismo del discurso. En él se proponen las bases de un marco teórico capaz de conformar un nuevo modelo de organización diverso del de los modelos académicos. El sistema verbal ha sido considerado por la tradición como el conjunto de paradigmas flexivos en que se organiza el verbo, como clase de palabra, a partir de un doble criterio temporal y modal que entiende que las formas verbales (denominadas tiempos) son sistematizables a partir de una serie de marcas deícticas que, idealmente, se corresponderían de manera primaria con los segmentos temporales clásicos (presente, pasado y futuro). Estas formas temporales, a su vez, serían portadoras de un significado modal, como marca de la presencia del hablante en el discurso. Por último, a esta división habría que añadirle una nueva categoría, la de aspecto, que marcaría el tiempo interno de los eventos significados por los lexemas verbales. Esta consideración, heredada desde los clásicos a través de la obra gramatical de Nebrija, se mantiene actualmente en nuestra gramática académica oficial y sustenta la visión que poseen los hablantes acerca del sistema. Sin embargo, se ha observado que las bases sobre las que se asienta carecen en muchos aspectos del rigor descriptivo y explicativo que sería deseable para alcanzar una comprensión real del funcionamiento del verbo como categoría flexible de palabras...
This paper deals with the Spanish verbal system, one of the fundamental topics in the study of our language, since it is related to categories that are at the very heart of discourse. It proposes the basis of a theoretical framework capable of shaping a new organisational model different from that of academic models.The verbal system has been considered by tradition as the set of inflectional paradigms in which the verb, as a word class, is organised on the basis of a double temporal and modal criterion which understands that the verbal forms (called tenses) can be systematised on the basis of a series of deictic marks which, ideally, would correspond in a primary way to the classical temporal segments (present, past and future). These temporal forms, in turn, would carry a modal meaning, as a mark of the speaker's presence in the discourse. Finally, to this division we should add a new category, that of aspect, which would mark the internal time of the events signified by the verbal lexemes. This consideration, inherited from the classics through the grammatical work of Nebrija, is currently maintained in our official academic grammar and underpins the view that speakers have of the system. However, it has been observed that the foundations on which it rests lack in many respects the descriptive and explanatory rigour that would be desirable to achieve a real understanding of the functioning of the verb as a flexible category of words...
Description
Tesis inédita de la Universidad Complutense de Madrid, Facultad de Filología, leída el 08-06-2022
Collections