Publication:
Las fuerzas religiosas como nuevos actores internacionales en un mundo en despertar: des-privatización y ocupación del espacio público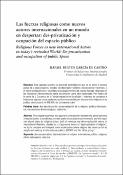 Authors
Advisors (or tutors)
Editors
Abstract
Este capítulo examina la aparente contradicción que se da entre el avance global de la secularización, proceso condicionado y abierto a excepciones y reversos, y el mayor protagonismo y visibilidad que adquieren hoy las nuevas fuerzas religiosas en las relaciones internacionales, tanto universales como etno-nacionales. Por medio de la teoría de J. Casanova de la "desprivatización de la religión", tratamos de comparar e interpretar algunos casos recientes que han sorprendido por el peso de lo religioso en la política internacional: el BREXIT y la "primavera árabe".
This chapter examines the apparent contradiction between the global advance of secularization, a conditional process open to exceptions and reversals, and the major role played today by religious actors, both of universal and ethno-nationalist nature, in International Relations. Backed on J. Casanova's theory of "deprivatization of religion", we try to compare and interpret some recent cases where religion has struck us for its weight and saliency in international politics: BREXIT and the "Arab spring".
Collections