Publication:
Gene expression profile suggests that pigs (Sus scrofa) are susceptible to Anaplasma phagocytophilum but control infection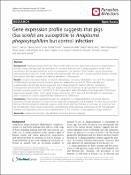 Files
Advisors (or tutors)
Editors
Abstract
BACKGROUND Anaplasma phagocytophilum infects a wide variety of hosts and causes granulocytic anaplasmosis in humans, horses and dogs and tick-borne fever in ruminants. Infection with A. phagocytophilum results in the modification of host gene expression and immune response. The objective of this research was to characterize gene expression in pigs (Sus scrofa) naturally and experimentally infected with A. phagocytophilum trying to identify mechanisms that help to explain low infection prevalence in this species. RESULTS For gene expression analysis in naturally infected pigs, microarray hybridization was used. The expression of differentially expressed immune response genes was analyzed by real-time RT-PCR in naturally and experimentally infected pigs. Results suggested that A. phagocytophilum infection affected cytoskeleton rearrangement and increased both innate and adaptive immune responses by up regulation of interleukin 1 receptor accessory protein-like 1 (IL1RAPL1), T-cell receptor alpha chain (TCR-alpha), thrombospondin 4 (TSP-4) and Gap junction protein alpha 1 (GJA1) genes. Higher serum levels of IL-1 beta, IL-8 and TNF-alpha in infected pigs when compared to controls supported data obtained at the mRNA level. CONCLUSIONS These results suggested that pigs are susceptible to A. phagocytophilum but control infection, particularly through activation of innate immune responses, phagocytosis and autophagy. This fact may account for the low infection prevalence detected in pigs in some regions and thus their low or no impact as a reservoir host for this pathogen. These results advanced our understanding of the molecular mechanisms at the host-pathogen interface and suggested a role for newly reported genes in the protection of pigs against A. phagocytophilum.
Collections