Publication:
Estudio del grosor corneal en diferentes zonas corneales en pacientes sanos y con glaucoma primario de ángulo abierto: efecto sobre la tonometría de aplanación de Goldmann, tonometría de contorno y tonometría de rebote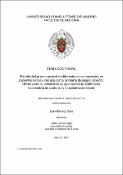 Files
Authors
Advisors (or tutors)
Editors
Publisher
Universidad Complutense de Madrid
Abstract
Dada la controversia actual sobre el papel del grosor corneal, no solo a nivel central sino también en la periferia corneal, y su influencia en las medidas tonométricas, es plausible preguntarse de qué manera pueden afectar diferentes zonas de segmentación corneal diferentes a la del punto central, en la medida de los tonómetros más usados en la práctica clínica como son la tonometría de aplanación de Goldmann (TAG), el tonómetro de contorno dinámico (TCD) o la tonometría de rebote (TR), y reconocer si existen patrones característicos que pudieran ayudarnos a discriminar entre pacientes afectos de glaucoma primario de ángulo abierto (GPAA) o sujetos sanos. Objetivos: El objetivo principal de este trabajo fue construir 5 modelos de segmentación circulares adaptados a la forma del contorno de la córnea, en una muestra de sujetos sanos y enfermos con GPAA a fin de determinar: 1. El grosor corneal central (GCC) determinado mediante paquimetría ultrasónica, el grosor medio de toda la córnea y el grosor medio de las regiones corneales generadas en la segmentación, así como su influencia sobre la TAG, la TCD y la TR. 2. Las diferencias existentes, entre los grosores medios de las zonas generadas en la segmentación de controles sanos y pacientes afectos de GPAA...
Given the current controversy over the role of corneal thickness, not only at the central level but also in the corneal periphery, and its influence on tonometry measurements, it is plausible to inquire how might affect the different areas of peripheral corneal segmentation into the tonometry values measured with the tonometers most commonly used in the clinical practice, such as Goldmann applanation tonometry (GAT), dynamic contour tonometer (DCT) or rebound tonometry (RT). Moreover, to recognize whether there are characteristic patterns that could help to discriminate between patients with primary open-angle glaucoma (POAG) or healthy subjects. Goals: The main goals of this work was to build 5 models of circular segmentation adapted to the contour shape of the cornea, in a sample of healthy subjects and patients with POAG in order to determine: 1. The central corneal thickness (CCT) determined by ultrasonic pachymetry, the average thickness of the entire cornea and the average thickness of the corneal regions generated in the segmentation and its influence on GAT, DCT and RT. 2. The differences between the average thickness of the areas generated in the segmentation of healthy controls and patients with POAG...
Description
Tesis inédita de la Universidad Complutense de Madrid, Facultad de Medicina, leída el 27-10-2016
Collections