Publication:
Vidrios mesoporosos bioactivos para el tratamiento de patologías óseas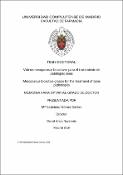 Authors
Advisors (or tutors)
Editors
Publisher
Universidad Complutense de Madrid
Abstract
La presente tesis doctoral tiene como objetivo la obtención de vidrios mesoporosos bioactivos (MBGs) para ser utilizados en el tratamiento de defectos óseos asociados a patologías del tejido óseo. La motivación de este trabajo surge de la demanda de terapias regenerativas para el tratamiento de defectos óseos derivados de enfermedades como la osteoporosis, la infección o el cáncer. Generalmente la mayoría de los implantes óseos poseen una vida útil limitada y se implantan con fines sustitutivos. En la actualidad, relacionado en gran medida con el envejecimiento de la población, ha surgido la necesidad de diseñar materiales que favorezcan la regeneración ósea frente a los diseñados para su sustitución. En este sentido las biocerámicas bioactivas de tercera generación, en las que se engloban los MBGs presentan propiedades que favorecen la regeneración de defectos en el hueso promoviendo la restauración y reparación de los mismos. En la presente tesis hemos hemos abordado este objetivo siguiendo tres estrategias: 1. Optimización de las propiedades químicas y de la estructura porosa para determinar las composiciones químicas y propiedades texturales más adecuadas para los fines propuestos.2. Obtención de MBGs con capacidad regenerativa para tratamiento o prevención secundaria de tumores óseos e infecciones en el hueso.3. Obtención de andamios macroporosos de MBGs para regeneración de hueso en pacientes osteoporóticos...
The objective of this thesis has been to obtain mesoporous bioactive glasses (MBG) tobe used in the treatment of pathologies associated with bone tissue. The motivation for this work arises by the demand for regenerative therapies for the treatment of bone defects derived from diseases such as osteoporosis, infection or cancer. Most bone implants generally have a limited lifespan and are implanted for replacement purposes. Currently, due to the ageing of the population, the need has arisen to design materials that favour bone regeneration as opposed to bone replacement. In this sense, the third generation bioactive bioceramics including MBGs have properties that favor the regeneration of defects in the bone, promoting their restoration and repair. This objective has been addressed through three strategies: 1. Optimization of chemical properties and porous structure to determine the most suitable chemical compositions and textural properties for the proposed purposes. 2. Obtaining regenerative MBGs for secondary treatment or prevention of bone tumors and bone infections. 3. Obtaining macroporous scaffolding of MBG for bone regeneration in osteoporotic patients...
Description
Tesis de la Universidad Complutense de Madrid, Facultad de Farmacia, leída el 17-09-2018
Collections