Publication:
Parques de Sintra management model: the Palace of Pena case study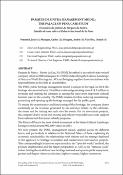 Advisors (or tutors)
Editors
Publisher
Universidad Complutense de Madrid, Servicio de Publicaciones
Abstract
Parques de Sintra - Monte da Lua, SA (PSML hereafter) is an entirely state owned company set up in 2000 subsequent to UNESCO classifying the Cultural Landscape of Sintra as World Heritage in 1995 and bringing together those institutions with responsibilities in this field as shareholders. The PSML public heritage management model is unique in Portugal. In 2014, the heritage sites received over 1.9 million visits and generating some €18.3 million in revenues and ranking the company as among the three most important cultural tourism poles in the country. The PSML mission involves restoring, maintaining, promoting and opening up the heritage managed for the public good. To ensure the maintenance and functioning of this heritage, the company draws exclusively on the revenues generated by site entrance tickets, by the cafeterias, the stores and by renting out such sites for events. For its investment projects, the company draws on its own income and whenever possible also seeks support from national and European subsidy programs. The Palace of Pena is the most visited monument in the Sintra Cultural Landscape having received around 900,000 visitors in 2014. We now present the PSML management model, applied across its different facets, and particularly in relation to the National Palace of Pena, explaining its economic sustainability, the relationships with visitors and the strategy deployed in the approach to heritage restoration and conservation intervention projects. This correspondingly focuses on aspects such as the "open for works" method, the projects implemented and the future perspectives as well as the "virtuous cycle" vision driving the model's success: heritage restored and open to public enjoyment, greater and deeper visitor satisfaction, higher revenues, higher investment.
Parques de Sintra – Monte da Lua, SA (PSML) es una empresa de capitales exclusivamente públicos creada en el año 2000, después de que la UNESCO declarase en 1995 el Paisaje Cultura de Sintra Patrimonio Mundial. Agrupa a las instituciones con responsabilidades en la zona y que constituyen su accionariado, con la misión de recuperar, conservar, divulgar y abrir al público el patrimonio que gestiona. El modelo de gestión del patrimonio público de PSML es único en Portugal. En 2014 recibió a más de 1,9 millones de visitantes que generaron unos ingresos de cerca de 18,3 millones de euros, situándose entre los tres más importantes polos de turismo cultural del país. El Palacio de la Pena es el monumento más visitado del Paisaje Cultural de Sintra, con cerca de 900 mil visitantes en 2014. El mantenimiento y funcionamiento de las propiedades dependen exclusivamente de los ingresos que reportan las taquillas, las cafeterías, las tiendas y el alquiler de los espacios para eventos. La empresa también recurre a sus propios recursos para financiar sus inversiones, buscando en la medida de lo posible contar con el apoyo de programas nacionales y europeos. El modelo de gestión de PSML que se presenta, aplicado en sus diferentes vertientes y en especial al Palacio Nacional de la Pena, explicita su sostenibilidad económica, la relación con los visitantes y la estrategia utilizada en las intervenciones de recuperación y conservación del patrimonio. Entre los diferentes aspectos tratados destacan el método "abierto por obras", los proyectos ya realizados y los previstos para el futuro. Se ofrece también una visión sobre el "círculo virtuoso" para el éxito del modelo: patrimonio restaurado y abierto al público, más y mayor satisfacción de los visitantes, mayores ingresos, más inversiones.
Collections