Publication:
La campaña presidencial de México 2012: agendas pública, mediática y política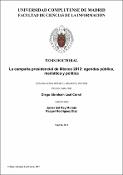 Files
Authors
Advisors (or tutors)
Editors
Publisher
Universidad Complutense de Madrid
Abstract
La elección presidencial del año 2012 significó el regreso del Partido Revolucionario Institucional al Poder Ejecutivo Federal después de 12 años de gobierno del Partido Acción Nacional. En la elección presidencial del año 2012 se dio un debate acerca del poder de los medios de comunicación en México y de su aparente sesgo a favor del candidato Enrique Peña Nieto y de su partido, el PRI, en alianza con el Partido Verde Ecologista de México. Esta investigación se centrará en descubrir si existió un proceso de establecimiento de agenda durante la elección presidencial del año 2012, tanto en el primer nivel (establecimiento de los temas) como en el segundo nivel (establecimiento de los atributos). En México los estudios de agenda setting con un enfoque ortodoxo son más bien escasos, por lo que la presente investigación, no solo ayudará a dilucidar si los medios tuvieron éxito al imponer la agenda mediática en la agenda pública, sino también, ayudará a aumentar el número de investigaciones relacionadas con esta teoría en el país. Una vez que realizamos la investigación se verificó que en la agenda temática nos encontramos con resultados mixtos, que van desde débiles hasta muy fuertes, sin embargo predominaron las correlaciones débiles o inexistentes, por lo que no podemos afirmar que durante el periodo de estudio se pudo apreciar el efecto agenda entre los mexicanos. En cuanto a la agenda de los atributos encontramos resultados mixtos los cuales en muchos casos confirman el establecimiento de la agenda de los atributos de los diarios estudiados en el público.
In México, the 2012 presidential election marked the return to power of the Partido Revolucionario Institucional (PRI) after the 12 year's rule of Partido Accion Nacional (PAN). Throughout the election campaign the issue of media's bias towards the PRI's candidate, Enrique Peña Nieto, was a recurrent theme. In that election campaign the PRI party formed an electoral alliance with the Partido Verde Ecologista de México. This investigation focuses in finding out the agenda setting effect during that election campaign, with emphasis in the two levels of the agenda: the first level (issues) and the second level (attributes). In Mexico, the agenda setting studies are mostly scarce, in such manner, this research will not only help to find if the media was successful stablishing its agenda to the public but also to strength the agenda settinǵs research in the country. Once the agendas are correlated, it is observed that there were mixed results between the public and the media agenda, finding from weak to strong correlations, nonetheless, weak correlations were predominant, so it is not possible to assert that during the study period is possible to observe the agenda setting effect between the Mexican people. The research revels mixed results in the attributes' agenda, in most of the cases is possible to observe the agenda setting effect during the study period.
Description
Tesis inédita de la Universidad Complutense de Madrid, Facultad de Ciencias de la Información, leída el 21/06/2017
Collections