Publication:
El biomorfismo en la pintura abstracta contemporánea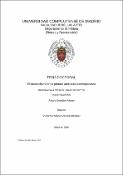 Authors
Advisors (or tutors)
Editors
Publisher
Universidad Complutense de Madrid
Abstract
En la pintura abstracta contemporánea es notoria la presencia de algunos artistas que utilizan formas que evocan los contornos, las estructuras y los procesos del mundo natural en sus obras. Estas formas, tienen su razón de ser en las configuraciones visibles e invisibles, cercanas o lejanas, microscópicas y macroscópicas del cuerpo humano, las plantas, los animales o el universo. En esta investigación se analiza la premisa según la cual el arte y la ciencia han mantenido una larga relación histórica, que podría interpretarse bajo dos vertientes: el primer camino es el trazado por la idea de visualización y divulgación de la ciencia, la cual se refiere a la traducción en imágenes de teorías científicas; imágenes que en muchos casos han sido realizadas mediante las habilidades plásticas de los artistas; la segunda vía de interpretación puede ser abierta a través del valor estético de la propia imagen científica, que como elemento visual, de gran valor comunicativo, ha inspirado a la propia disciplina artística en diferentes momentos de la historia. La investigación se fundamenta en la propuesta teórica de los autores: Oliver Botar, Isabel Wunsche y Lynn Gamwell, quienes han postulado que el origen de la abstracción pictórica está vinculado a las corrientes de pensamiento biocentristas y la divulgación científica. Se entiende por biocentrismo aquellas ideas que sitúan a la naturaleza y sus procesos como eje principal y fuente de inspiración en la producción artística. De acuerdo con ello, se examina el concepto de forma orgánica difundido por el organicismo y la crítica literaria de mediados del siglo XVIII...
There is a clear presence of several artists in contemporary abstract painting who use forms that evoke the contours, structures and processes of the natural world in their works. These forms have their raison d'être in the visible and invisible, close and distant, microscopic and macroscopic shapes and layout of the human body, plants, animals and the universe. In this study, the premise is analysed according to which art and science have upheld a long historical relationship, which could be interpreted in two different ways: the first path is that outlined by the idea of the visualisation and popularisation of science. This refers to the translation of images from scientific theories, images that in many cases have been created with the artists' plastic skills. The second interpretation method can be opened via the aesthetic value of the scientific image itself. As a visual element with great communicative value, it has inspired artistic disciplines at different times in history. This research is founded on these authors' technical proposals: Oliver Botar and Isabel Wunsche or Lynn Gamwell, who postulated that the source of pictorial abstraction is linked to biocentric schools of thought and the popularisation of science. Biocentrism is defined as those ideas that situate nature and its processes as the core and source of inspiration of artistic production. According to this, the concept of organic form is examined that is disseminated by organicism and literary criticism from the mid-18th century...
Description
Tesis inédita de la Universidad Complutense de Madrid, Facultad de Bellas Artes, Departamento de Pintura, leída el 2-02-2016
Collections