Publication:
El lesbianismo en las series de ficción televisiva españolas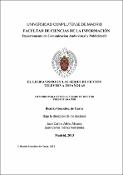 Advisors (or tutors)
Editors
Publisher
Universidad Complutense de Madrid
Abstract
El objetivo de la investigación es analizar cuál es la imagen que ha ofrecido la ficción televisiva española del lesbianismo. Con tal fin, se ha desarrollado, por un lado, un trabajo historiográfico documentando los diferentes casos, tanto de personajes masculinos como femeninos, y trazando la evolución histórica de la representación de la homosexualidad en la televisión española. Por otro, se ha descrito el perfil general de los personajes lésbicos (aspecto externo, ocupación laboral, nivel socio-­‐económico, nacionalidad, etc. ) y de las ficciones seriales que los incluyen a partir del estudio de las series de televisión españolas con personajes recurrentes protagonistas o co-­‐protagonistas hasta 2011. Las conclusiones revelan cómo la ficción televisiva española ha optado por ofrecer predominantemente una imagen integrada del lesbianismo, a pesar de que el discurso ha evolucionado a lo largo de la historia dando lugar a distintas modalidades de representación (oculta, marginalizadora, reivindicativa e integrada). [ABSTRACT] The aim of this research is to analyse the picture that Spanish TV fiction has shown of lesbianism. With that purpose it has been developed a historiographical work documenting every case founded of both masculine and feminine characters and describing the historical evolution of the representation of homosexuality on Spanish TV. Furthermore, the profiles of the average lesbian character (appearance, profession, socio-­‐economic level, nationality…) and the series that includes them have been elaborated based on the study of the Spanish TV series with lesbian main characters until 2011. The conclusions reveal that Spanish TV fiction has chosen predominantly to portray integrated lesbian characters, despite the evolution of the discourse throughout history, which has set different models of representation (Hidden, Marginalizing, Claiming and Integrated).
Description
Tesis inédita de la Universidad Complutense de Madrid, Facultad de Ciencias de la Información, Departamento de Comunicación Audiovisual y Publicidad 1, leída el 14-12-2012
Collections