Publication:
Efectividad de una intervención en salud sexual a mujeres con síndrome genitourinario de la menopausia en la mejora de su calidad de vida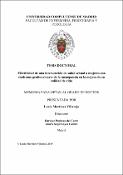 Files
Authors
Advisors (or tutors)
Editors
Publisher
Universidad Complutense de Madrid
Abstract
El Síndrome Genitourinario de la Menopausia (SGM) es un cuadro frecuente que multiplica por cuatro el riesgo de disfunción sexual y repercute en la calidad de vida de las mujeres que lo padecen; sin embargo aquellas con una vida sexual activa presentan menos síntomas relacionados. Objetivo: evaluar la efectividad de una intervención compleja en salud sexual, en consulta individual con la matrona, en la mejora de la calidad de vida de mujeres con SGM. Métodos: ensayo clínico multicéntrico aleatorizado de grupos paralelos, controlado simple ciego, con evaluación ciega de la variable respuesta, llevado a cabo en Madrid. Realizado en mujeres de 45 a 65 años con SGM que acudieron a la consulta de la matrona. N = 250 (125 en cada rama). El grupo control recibió la práctica habitual. El grupo EXIMe recibió además una intervención compleja en salud sexual que utilizó técnicas de expresión, análisis, información y desarrollo de habilidades en salud sexual realizada por matronas de Atención Primaria en consulta individual. La variable principal fue la calidad de vida en la menopausia (Cuestionario Cervantes-Breve), y las variables secundarias fueron sociodemográficas, relacionadas con la historia sexual y el SGM. Se llevó a cabo un análisis por intención de tratar, antes/después (1 y 6 meses) de la intervención...
Genitourinary Syndrome of Menopause (GSM) is a common condition that increases by four the risk of having a sexual dysfunction, and that affects the quality of life of women who suffer it. Women with an active sexual life have fewer symptoms associated with GSM. Objective: to evaluate the effectiveness of an individualized intervention in sexual health conducted in the midwife consultation to improve the quality of life in women with GMS. Methods: multicentre randomized clinical trial with groups in parallel, controlled single blind, with blind evaluation of the response variable, held in Madrid. Performed in women of 45 to 65 years old with GSM attending to the midwife consultation. N = 250 (125 women in each group). The control group received the usual assistance, and the EXIMe group received in addition a complex intervention in sexual health, individualized, where techniques for expression, analysis, information and development of sexual health skills were used. Principal variable was the Main-Quality of life in menopause, and secondary were sociodemographic variables, sexual history, and variables related to the GSM. Analysis by intention-to-treat, before/after (1 and 6 months) the intervention...
Description
Tesis inédita de la Universidad Complutense de Madrid, Facultad de Enfermería, Fisioterapia y Podología, leída el 20-11-2019
Collections