Publication:
Los pactos parasociales anteriores a la entrada en vigor de la Ley de Transparencia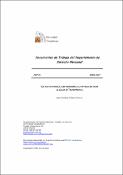 Advisors (or tutors)
Editors
Abstract
La Ley de Transparencia incorporó una nueva regulación para los pactos parasociales en sociedades cotizadas. Para los pactos preexistentes se adoptó un régimen transitorio, que en algún aspecto resultaba muy confuso. El trabajo expone una interpretación de esas normas transitorias desde los principios que se considera que han inspirado la nueva regulación.The Transparency Act introduced a new regulation of shareholders' agreements at quoted companies. Concerning the previous agreements, certain somehow confusing temporary provisions were adopted. This paper sets out a construction of the said temporary provisions from the perspective of the principles deemed to be the inspiration for the new regulation.