Publication:
Reglamento Bruselas I: Perspectivas en relación con el Reino Unido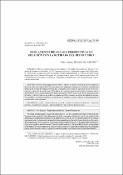 Authors
Advisors (or tutors)
Editors
Abstract
El inicio de las negociaciones sobre la retirada del Reino Unido de la Unión Europea ha puesto de relieve la complejidad de las cuestiones que se plantean en relación con los límites a la aplicación temporal del sistema del Reglamento Bruselas, resultando controvertido en especial lo relativo al reconocimiento y ejecución de resoluciones. Más allá de las cuestiones propias del acuerdo de retirada, ante la incertidumbre acerca de la posibilidad de lograr un acuerdo sobre el marco de las futuras relaciones entre la Unión y el Reino Unido en los ámbitos regulados por el Reglamento, son objeto de análisis las alternativas posibles y la situación resultante en caso de que la retirada se produzca sin que se haya alcanzado un acuerdo sobre estas cuestiones.
The initial position papers on judicial cooperation in civil and commercial matters produced by the European Union and the United Kingdom reveal the importance of this issue even in the context of the withdrawal arrangements. During this first stage the focus rests on the ransitional regime of the relevant instruments and to what extend certain effects may extend beyond the date of entry into force of the withdrawal agreement. This may prove particularly controversial with regard to the application of the provisions on recognition and enforcement. There is no indication as to the possibility to reach an agreement in this field on the future relationship between the EU and the UK. Against this background, the applicable regime in the absence of such an agreement and the possible alternatives deserve particular attention.
Collections