Publication:
Dependencia en el anciano frágil: aspectos médico-legales y deontológicos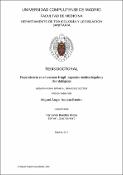 Files
Authors
Editors
Publisher
Universidad Complutense de Madrid
Abstract
Introducción: El envejecimiento poblacional se relaciona con un incremento en los costes sanitarios, económicos y personales en relación con la mayor exigencia de cuidados de la salud y sociales que requieren los ancianos. La sociedad reclama la aparición de medidas que permitan atender a las personas mayores consiguiendo la mejor calidad de vida posible dentro de un sistema sostenible. El derecho a la atención sociosanitaria ha surgido desde la articulación legal que ha desembocado en la atención a la dependencia. Sin embargo, el mejor nivel de salud se conseguiría previniendo la enfermedad. El síndrome de fragilidad en el anciano identifica a individuos con un mayor riesgo de pérdida de salud y funcionalidad, lo que conlleva una serie de problemas médico-legales y deontológicos en torno al acceso a los recursos, la distribución de los mismos, la libertad, la autonomía y la confidencialidad. Hipótesis y objetivos: La hipótesis planteada enuncia que la determinación del estadio de fragilidad de los ancianos permitirá identificar el momento de aparición del deterioro funcional de los pacientes. El objetivo de esta tesis es identificar la relación entre la fragilidad, la dependencia, la presencia de otras patologías y el riesgo social, y comprender las implicaciones médico-legales y deontológicas asociadas a la dependencia en el anciano frágil. Se incluye además una visión retrospectiva de la evolución en el desarrollo del derecho, con el objetivo de comprender el enfoque de futuras políticas en la atención al anciano...
Introduction: The Spanish population, like that of other first world countries, suffers a progressive aging population. This phenomenon implies that the population´s proportion of people over sixty- five years is increasing. Disease is accumulated in the last stages of life, when the individual demands of society a greater number of resources in relation to pensions, healthcare and social care. Population aging is associated therefore with an increase in the health, economic and personal costs in relation to the greater requirement for healthcare and social by elderly people. Society demands the development of measures to assist older people getting the best possible quality of life in a sustainable system. This system has to ensure the acquisition of better standard of health in all stages of life, according to the Universal Declaration of Human Rights. This level of health is only obtainable through measures which prevent or delay the functional and physical deterioration, or rehabilitated if possible. The right to social care has emerged from the legal articulation began in the recognition of human rights, and has resulted in the right to health care. However, better health would be achieved by anticipating the appearance of disability. The syndrome of frailty in the elderly identifies individuals with increased risk of loss of health and functionality, which involves a series of medical-legal and ethical issues around access to resources, their distribution, freedom, autonomy and confidentiality. It is therefore necessary to know the implications that the detection of frailty syndrome can have not only in terms of individual and population health, but in terms of the ethical and legal conflicts that may arise from the identification of fragile individuals. Hypothesis and objectives: The hypothesis of this thesis is that identifying individuals with physical frailty syndrome will allow us to relate this entity with the emergence of dependence, relating the physical functional impairment chronologically, and arising a number of medical-legal and ethical issues associated. The objective of this thesis is to identify the relationship between frailty, dependency, the presence of other diseases and social risk, and understand the medico-legal and ethical implications associated with dependence on the frail elderly. It also includes a retrospective view of the evolution in the development of law, in order to understand the policy approach in caring for elderly and analyzing whether screening for fragile syndrome might fit them...
Description
Tesis inédita de la Universidad Complutense de Madrid, Facultad de Medicina, Departamento de Toxicología y Legislación Sanitaria, leída el 09/02/2016
Collections