Publication:
El sistema de dominación azteca: el Imperio Tepaneca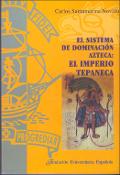 Authors
Advisors (or tutors)
Editors
Publisher
Fundación Universitaria Española
Abstract
Esta obra viene a cubrir un hueco en la historiografía de la América Prehispánica. En efecto, el periodo de hegemonía de la ciudad de Azcapotzalco (1375-1428), antecedente directo de la poderosa Tenochtitlan que abatió Cortés, constituye el llamado Imperio Tepaneca, pero hasta ahora toda la atención de los historiadores se había centrado en el Imperio Mexica, debido en parte a la escasez de fuentes tepanecas, en muchos casos sometidas al ostracismo de los propios mexicas. Parte el autor, en la primera parte de la obra, de una consideración general del sistema político azteca -gentilicio en el que caben tanto mexicas como tepanecas- para dedicar la segunda propiamente al estudio histórico del Imperio Tepaneca con centro en Azcapotzalco. Se pasa revista a los datos que nos ofrecen las fuentes sobre la dinastía gobernante -a la cual llegaron a pertenecer los señores de México-, así como a las listas de conquistas que nos han llegado, para ofrecer un panorama regional y global tan completo como ha sido posible. Se revisa también la versión sesgada de la historia que nos han legado las fuentes mexicas para ofrecer una interpretación final del Imperio Tepaneca como una primera fase de centralización azteca del área lacustre centromesoamericana, paso previo imprescindible para la que sería posterior expansión imperial por más amplias regiones de Mesoamérica, ya bajo el mando de Mexico Tenochtitlan.
This work comes to fill a gap in the history of Pre-Hispanic America. Indeed, the period of hegemony of the city of Azcapotzalco (1375-1428), direct antecedent of the powerful Tenochtitlan that struck down Cortes, the so-called Tepaneca Empire, but until now all the attention of historians focused on the Mexican Empire. the scarcity of Tepanec sources, in many cases to the ostracism of the Mexicas themselves. The author begins, in the first part of the work, with a general consideration of the Aztec political system -demonym that includes the Mexicas and the Tepanecas- to dedicate ourselves to the second part of the historical study of the Tepaneca Empire centered in Azcapotzalco. What happens with the data that the sources about the ruling dynasty offer us? What is the state of the lords of Mexico? As well as the lists of conquests that we have reached, to offer a regional and global panorama as complete as it has been possible. We also reviewed the previous version of the history that we have bequeathed the sources to offer a final interpretation of the Tepaneca Empire as a first phase of the Aztec centralization of the centromeso-american lacustrine area, an essential step for the later, imperial, imperial, more of Mesoamerica , already under the command of Mexico Tenochtitlan.
Collections