Publication:
Diez años de aplicación e interpretación del régimen del Reglamento Bruselas II bis sobre crisis matrimoniales y responsabilidad parental (análisis de los aspectos de competencia judicial internacional)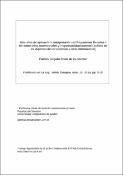 Advisors (or tutors)
Editors
Abstract
Han transcurrido ya diez años desde la entrada en vigor del Reglamento Bruselas II bis. A lo largo de estos años, las instituciones de la UE, y especialmente el TJCE, han desarrollado una tarea importante en la interpretación y aplicación de este instrumento. A través del análisis de esta labor, este trabajo tiene el doble propósito de, por una parte contribuir a la reflexión sobre algunas de las cuestiones que actualmente se están considerando de cara a una posible reforma del Reglamento; y, por otra, llamar la atención sobre otras cuestiones que no estarían siendo consideradas . Por razones de espacio, el estudio se centra en exclusiva en el sector de la competencia internacional.
Ten years have already passed since Brussels II bis Regulation entered into force. Along these years, the EU institutions, and especially the ECJ, have developed an important task in the interpretation and application of this instrument. By means of an analysis of this development, this paper is directed to contribute to the reflection on some of the issues that are currently under consideration ahead of a possible reform of the Regulation, and also to draw attention to other issues that are not being considered. For reasons of limited space, whole consideration is given to the rules on international jurisdiction.
Collections