Publication:
Medios de comunicación, poder y contrapoder en América Latina: un estudio comparado entre Venezuela y Ecuador en la historia más reciente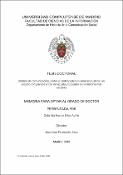 Files
Authors
Advisors (or tutors)
Editors
Publisher
Universidad Complutense de Madrid
Abstract
Sistemas mediáticos iliberales, es una categoría que innova este documento en los estudios comunicacionales al reflexionar sobre el paralelismo político de los sistemas mediáticos de Ecuador y Venezuela y sus respectivos sistemas políticos en su evolución histórica más reciente. Además plantea la necesidad de entender estos procesos dentro del campo de poder y cómo los medios de comunicación y los gobiernos de turno pugnan por la hegemonía discursiva en la esfera pública, haciendo uso de sus respectivos capitales económicos, políticos, culturales y simbólicos. No obstante, esta tesis reconoce además el peso de las audiencias en el establecimiento de equilibrios dentro de la estructura comunicacional, partiendo de estos como una clase subalterna capaz de resistirse a la capacidad persuasiva de los medios y del gobierno. La presente investigación pone en evidencia la transición de un sistema mediático mixto (hipercomercial-clientelar) a uno iliberal que parte de un giro importante en la estructura mediática de Ecuador y Venezuela, y que deviene de la presencia de los gobiernos populistas en estos países con una lata injerencia estatal. De esta forma, los pesos y contrapesos en el sistema mediático mantienen un equilibrio fundamental dentro de los procesos políticos que se viven en los casos de estudio...
"Illiberal media system" is a category that implements this document in the studies of communication for Ecuador and Venezuela, in order to understand the structures of parallelism between the media and the politic system. This research highlights the transition from a mixed media system (hipercomercial-patronage) to a illiberal one. That change is caused by the presence of populist governments in these countries with a high State interference. The following pages are about the latest years of Venezuela since the government of Hugo Chavez and Rafael Correa in Ecuador. The objective is to understand its historical development in the field of power and its relation with the discursive hegemony in the public sphere. The use of economic, political, cultural and symbolic capital makes the position of the media and their contenders stronger. In this thesis the communication is considered bidirectional, for that reason, the receptor must be understood as part of a subaltern class able to resist the persuasiveness of media and communication machinery of Government. This paper discusses the need to build a critical view between the political and the communicational aspect in a scenario where power relations are measured in the struggle for hegemony to achieve the dominance of sense...
Description
Tesis inédita de la Universidad Complutense de Madrid, Facultad de Ciencias de la Información, Departamento de Historia de la Comunicación Social, leída el 02-02-2017
Collections