Publication:
Anatomía evolutiva del brazo y el antebrazo en los homininos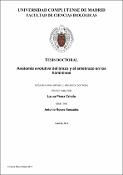 Authors
Advisors (or tutors)
Editors
Publisher
Universidad Complutense de Madrid
Abstract
Esta tesis aborda el estudio de la evolución de los elementos óseos del brazo y del antebrazo de los homininos a través del análisis de su polaridad de rasgos, de sus patrones de lateralidad y mediante la reconstrucción de la anatomía del último antepasado común Pan/Homo. Para llevar a cabo este estudio se ha empleado una combinación de métodos de antropometría clásica y, principalmente, de morfometría geométrica 3D basada en la configuración de landmarks. Contribuir al debate sobre la polaridad de rasgos en los diferentes elementos óseos del brazo y del antebrazo dentro de los homininos es uno de los principales objetivos de esta tesis. Concretamente, se pretende profundizar en el análisis del fenotipo Neandertal, considerado exclusivo de esa especie durante mucho tiempo, y en su comparación con los humanos anatómicamente modernos. Para ahondar en ello, se incluye la colección inédita de húmero, ulna y radio de H. neanderthalensis del yacimiento de El Sidrón (Asturias, España), colección formada por más de 2250 restos, donde todas las partes del esqueleto están representadas y se han identificado 13 individuos, con estrechos lazos familiares entre ellos...
This thesis is about the study of the arm and forearm bony elements evolution of the hominins through the analysis of their traits polarity, their laterality patterns, and by means of the reconstruction of the Pan / Homo last common ancestor anatomy. To carry out this study, a combination of classical anthropometry methods and, mainly, 3D geometric morphometry based on the configuration of landmarks has been used. One of the main objectives of this thesis is to analyze the traits polarity in humerus, ulna and radius within hominins. Specifically, it pretends to improve knowledge about the Neanderthal phenotype, considered exclusive of this species, and to make a comparison between these two species. To delve into this, the unpublished collection of humerus, ulna and radius of H. neanderthalensis from the site of El Sidrón (Asturias, Spain) is included, this collection is formed of more than 2250 remains, where all anatomical regions are represented and 13 individuals have been identified, with close family ties between them...
Description
Tesis inédita de la Universidad Complutense de Madrid, Facultad de Ciencias Biológicas, leída el 28 de Septiembre de de 2017
Collections