Publication:
Semiclassical correlation functions of Wilson loops and local vertex operators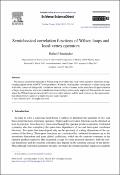 Authors
Advisors (or tutors)
Editors
Abstract
We analyze correlation functions of Wilson loop observables and local vertex operators within the strongcoupling regime of the AdS/CFT correspondence. When the local operator corresponds to a light string state with finite conserved charges the correlation function can be evaluated in the semiclassical approximation of large string tension, where the contribution from the light vertex can be neglected. We consider the cases where the Wilson loops are described by two concentric surfaces and the local vertices are the superconformal chiral primary scalar or a singlet massive scalar operator.
Description
© 2012 Elsevier B.V. We would like to thank the organizers of the Nordita Program on "Exact Results in GaugeString Dualities" for warm hospitality and providing a stimulating atmosphere while this note was being completed. This work is supported by MICINN through a Ramón y Cajal contract and grant FPA2008-04906, and by BSCH-UCM through grant GR58/08-910770.
Collections