Publication:
Mediación 2030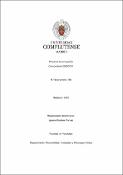 Advisors (or tutors)
Editors
Abstract
La mediación es un método pacífico de gestión de la convivencia. Según la ONU (2012), es un proceso por el que una tercera persona ayuda a dos o más partes, con su consentimiento, a prevenir, gestionar o resolver un conflicto ayudándolos a alcanzar acuerdos mutuamente aceptables. La mediación se basa en la premisa de que, en el entorno adecuado, las partes en conflicto pueden mejorar sus relaciones y avanzar hacia la cooperación. Desde esta perspectiva, el proyecto Mediación 2030 parte de una visión preventiva en la que la promoción de valores de respeto y tolerancia sean los ejes sobre los que construir la convivencia en nuestra Universidad.
Mediation is a peaceful coexistence management method. According to the UN (2012), it is a process by which a third person helps two or more parties, with their consent, to prevent, manage or resolve a conflict by helping them reach mutually acceptable agreements. Mediation is based on the premise that, in the right environment, the conflicting parties can improve their relationships and move towards cooperation. From this perspective, the Mediation 2030 project starts from a preventive vision in which the promotion of values ​​of respect and tolerance are the axes on which to build coexistence in our University.