Publication:
Cronopatología del infarto de miocardio y moduladores cronobiológicos en la efectividad de la estrategia terapéutica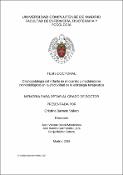 Files
Authors
Advisors (or tutors)
Garmendia Leiza, José Ramón
Editors
Publisher
Universidad Complutense de Madrid
Abstract
Los ritmos biológicos constituyen una característica endógena de la mayoría de las especies estando determinados por "relojes internos"1.El "reloj biológico" central, situado en el núcleo supraquiasmático (SCN), tiene expresión en varios tipos de células, lo que sugiere que cada órgano pueda poseer un reloj interno altamente específico, llamado "reloj periférico", como se muestra en muchos de los componentes del tejido cardiovascular y hemostático (cardiomiocitos, musculatura lisa vascular, endotelio vascular)1,2, cuya base de regulación es idéntica al del reloj central, capaces de establecer patrones rítmicos sincronizados a condicionantes externos (sociales, laborales,medioambientales -día-noche, luz-oscuridad-) e internos (relojes biológicos) igualmente cíclicos, permitiendo así un proceso adaptativo del ser humano a su entorno en la regulación de la fisiología saludable 1,2...
Biological rhythms constitute an endogenous characteristic of most species beingdetermined by "internal clocks" 1.The central "biological clock", located in the suprachiasmatic nucleus (SCN), hasexpression in several cell types, suggesting that each organ may possess a highly specificinternal clock, called "peripheral clock", as shown in many (Cardiomyocytes, vascular smoothmuscle, vascular endothelium)1,2 whose regulation base is identical to that of the central clock,capable of establishing rhythmic patterns synchronized with external factors (social, labor,environmental- day- Night, light-dark) and internal (biological clocks) are equally cyclical, thusallowing an adaptive process of the human being to his environment in the regulation ofhealthy physiology1,2In recent decades, cardiovascular chronopathology has been of increasing interest inthe physiological and pathophysiological bases of coronary ischemic disease, evidencing theexistence of circadian vulnerability in the rupture of the atherosclerotic plaque that causesmyocardial infarction3, on the basis of To the endothelial dysfunction that appears mainly inthe early hours of the morning and in the early stages of coronary disease1,4-6, as determinantsof an increase of the prothrombotic and vasoconstricting activity7, in a context of synergy withother endogenous mechanisms (Morning increase in levels of cortisol, catecholamines, bloodpressure, vascular resistance .)1,2,4,5,8-10 and exogenous (sleep-wake cycle, bipedestation, Theactivity .)1,2,4-6,10, which contribute, in a decisive way, to a maximum incidence of myocardialinfarction in the first hours of the morning (6-12 hours)...
Description
Tesis de la Universidad Complutense de Madrid, Facultad de Enfermería, Fisioterapia y Podología, leída el 14-07-2017
Collections