Publication:
Predicción del riesgo de infección grave en niños con neutropenia febril secundaria a quimioterapia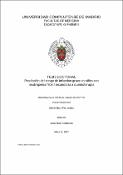 Files
Authors
Advisors (or tutors)
Editors
Publisher
Universidad Complutense de Madrid
Abstract
La neutropenia febril es una complicación muy frecuente en los niños que reciben tratamiento antitumoral. Las infecciones en pacientes neutropénicos se caracterizan por su escasa expresividad clínica y por su elevada mortalidad, por lo que el tratamiento habitual consiste en la hospitalización del enfermo y la administración empírica de antibióticos de amplio espectro de forma precoz. Esta conducta se ha demostrado muy eficaz y ha disminuido la mortalidad por debajo del 1% en pacientes pediátricos. Sin embargo, sólo en algunos niños con neutropenia febril se diagnostica una infección, por lo que es probable que una parte de ellos estén siendo excesivamente tratados. En los últimos años, se ha propuesto individualizar el tratamiento de la neutropenia febril, utilizando antibióticos orales en régimen ambulatorio en grupos de pacientes seleccionados. Para esto, resulta imprescindible disponer de un sistema de discriminación seguro y suficientemente validado. Se han propuesto diferentes modelos de predicción del riesgo de infección grave en niños con cáncer, aunque ninguno de ellos ha sido aceptado de forma universal. Objetivos: Evaluar la reproducibilidad de 3 modelos de predicción del riesgo ya descritos, en una población de niños españoles. Valorar el efecto de la consideración de la procalcitonina como variable independiente indicadora de alto riesgo en los citados modelos. Identificar aquellas variables clínicas y analíticas asociadas a la presencia de infección grave en la población de estudio y desarrollar un nuevo modelo de predicción a partir de ellas...
Fever and neutropenia is a frequently occurring complication in children undergoing treatment for malignancy. During the past decades, routine management for patients with fever and neutropenia has been prompt hospital admission and administration of broad-spectrum intravenous antibiotics. This approach has resulted in a reduction in the mortality rate below 1% in paediatric patients. However, invasive infections are finally diagnosed only in a few children with fever and neutropenia and, therefore, many children are probably over-treated. In recent years, less aggressive treatment, including oral antibiotics and outpatient management, has been proposed for selected low-risk patients. The key requirement for this management strategy is the identification of a predictive model that can safely identify children at a low risk of severe infection. Several low-risk prediction rules have been proposed, but none of them have been universally accepted. Purposes: To evaluate the reproducibility of 3 clinical decision rules previously proposed in a cohort of Spanish children with fever and neutropenia secondary to chemotherapy. To evaluate the effect of the inclusion of procalcitonin in the previously described low-risk prediction rules, as a parameter independently associated with high risk of severe infection. To identify clinical and laboratory parameters associated with severe infection and to develop a new clinical prediction rule...
Description
Tesis inédita de la Universidad Complutense de Madrid, Facultad de Medicina, Departamento de Pediatría, leída el 12-01-2016
Collections