Publication:
First Partial Skeleton of a 1.34-Million-Year-Old Paranthropus boisei from Bed II, Olduvai Gorge, Tanzania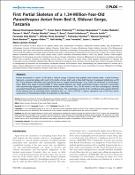 Authors
Uribelarrea del Val, David
Advisors (or tutors)
Editors
Publisher
Public Library of Science
Abstract
Recent excavations in Level 4 at BK (Bed II, Olduvai Gorge, Tanzania) have yielded nine hominin teeth, a distal humerus fragment, a proximal radius with much of its shaft, a femur shaft, and a tibia shaft fragment (cataloged collectively as OH 80). Those elements identified more specifically than to simply Hominidae gen. et sp. indet are attributed to Paranthropus boisei. Before this study, incontrovertible P. boisei partial skeletons, for which postcranial remains occurred in association with taxonomically diagnostic craniodental remains, were unknown. Thus, OH 80 stands as the first unambiguous, dentally associated Paranthropus partial skeleton from East Africa. The morphology and size of its constituent parts suggest that the fossils derived from an extremely robust individual who, at 1.33860.024 Ma (1 sigma), represents one of the most recent occurrences of Paranthropus before its extinction in East Africa.
Description
Received July 29, 2013; Accepted October 1, 2013; Published December 5, 2013. © 2013 Domínguez-Rodrigo et al. This is an open-access article distributed under the terms of the Creative Commons Attribution License, which permits unrestricted use, distribution, and reproduction in any medium, provided the original author and source are credited.
Collections