Publication:
Estructuras triples y otros recursos estilísticos en torno al tres en Las ranas de Aristófanes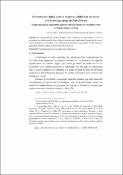 Authors
Advisors (or tutors)
Editors
Abstract
En este trabajo el autor ha analizado la repetición continua de Aristófanes " Ranas de estructuras en las que el número tres tiene un papel relevante mediante el uso de secuencias triples o iteraciones. La conclusión a la que se propone se basa en la importancia ritual de este número en los cultos relacionados con Dioniso.
In this paper the author has analyzed the continuous recurrence in Aristophanes" Frogs of structures in which number three plays a relevant role by means of the use of triple sequences or iterations. The conclusion he proposes is based on the ritual importance of this number in cults related to Dionysus.
Description
Texto recibido el 03.03.2014 y aceptado para publicación el 06.10.2014
Collections