Publication:
Obras en diálogo: una puesta en escena del espacio habitable, su transformación y ruina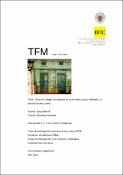 Authors
Advisors (or tutors)
Editors
Abstract
En esta investigación, planteo una reflexión entorno a la transformación del espacio habitable, evidenciado por las paredes en ruinas y las medianeras que quedaron al descubierto, como consecuencia de las continuas demoliciones que modifican día a día nuestras ciudades. Para ello, presento un estudio contextual de tres barrios, estando dos de ellos en Brasil, en la ciudad de São Paulo: el barrio "Luz" —con atención al terreno donde fueron destruidas millares de viviendas y donde en un futuro se construirá el Teatro da Dança— y el "Vila Nova Conceição" —barrio en que se construyó mi casa de infancia en que pongo especial atención a la desaparición de viviendas— y el tercero en España, en la ciudad de Barcelona: el barrio "Poblenou"— lugar donde se ubica la casa en la que he vivido los últimos cuatro años, caracterizado por la enorme cantidad de solares y edificaciones demolidas—. En estos tres contextos he encontrado las singularidades en que hallo mis inquietudes —de artista y ciudadana— en relación a la pérdida del hogar, a la desaparición de las historias mininas de lo cotidiano y a la memoria de las ciudades que se va borrando y adquiriendo nuevas significaciones. Los tres barrios están implicados en la creación de Obras en diálogo, una puesta en escena entre tres obras de mi autoría: Por la luz de un lugar, concebida en el barrio "Luz", obra Quadro 122 2007_2011, realizada en el barrio "Vila Nova Conceição" y Caja n° 66 de la serie Cuarto plano, creada en el barrio "Poblenou". A través de esta puesta en escena —a nivel teórico/practico— la "ruina urbana" aparece como protagonista del espacio habitable en estado de transformación, evidenciando los rasgos propios de los contextos abordados y la vulnerabilidad humana —y de sus espacios íntimos habitables— frente a las mutaciones de la ciudad. [ABSTRACT]On this research I propose reflections about transformations in urban spaces, as evidenced by the ruined walls, as a result of the continued demolition tasks that modify our cities every day. Therefore, I present a contextual study of three districts, two of them in São Paulo, Brazil: the "Luz" district —with focus on this site where thousands of houses were demolished and where, in the future, the Teatro da Dança, will be built-, and the "Vila Nova Conceição" district —the neighborhood where my childhood home was, therefore I paid particular attention to the disappearence of houses— and the third in Barcelona, Spain: the "Poblenou" district —where the house I lived for the last four years was located, characterized by the enormous amount of terrains and buildings demolished. In these three contexts I have found singularities that have instigated me —as an artist and as a citizen— in relation to the lost of a home, the disappearance of everyday stories and the memory of the cities that are fading and acquiring new meanings. The three districts are involved in Obras en diálogo, a three of my original works staging: Por la luz de un lugar, conceived in the "Light" district, Quadro 122 2007_2011, a work developed in the "Vila Nova Conceição" neighborhood and Caja n°. 66" from the series Cuarto plano, created in the "Poblenou" district. Through this thesis —at both theorical and practical level— the "urban ruin" appears as the protagonist of living space in a state of transformation, highlighting the distinctive features of the contexts and the human vulnerability —and the intimate living spaces— responding to changes in the city.