Publication:
Localization and oscillations of Majorana fermions in a two-dimensional electron gas coupled with d-wave superconductors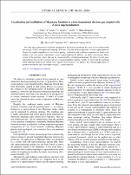 Advisors (or tutors)
Editors
Publisher
American Physical Society
Abstract
We study the localization and oscillation properties of the Majorana fermions that arise in a two-dimensional electron gas (2DEG) with spin-orbit coupling (SOC) and a Zeeman field coupled with a d-wave superconductor. Despite the angular dependence of the d-wave pairing, localization and oscillation properties are found to be similar to the ones seen in conventional s-wave superconductors. In addition, we study a microscopic lattice version of the previous system that can be characterized by a topological invariant. We derive its real space representation that involves nearest and next-to-nearest-neighbors pairing. Finally, we show that the emerging chiral Majorana fermions are indeed robust against static disorder. This analysis has potential applications to quantum simulations and experiments in high-T_(c) superconductors.
Description
© 2018 American Physical Society. We thank D. Chowdhury and L. Fu for helpful discussions. We acknowledge financial support from the Spanish MINECO Grants No. FIS2012-33152, No. FIS2015-67411, and the CAM research consortium QUITEMAD+, Grant No. S2013/ICE2801. The research of M.A.M.-D. has been supported in part by the US Army Research Office through Grant No. W911N F14-1-0103. O.V. thanks Fundación Rafael del Pino, Fundación Ramón Areces and RCC Harvard. S.V. thanks FPU-MECD Grant.
Collections