Publication:
Contexto científico tecnológico y eliminación de las barreras sociocomunicacionales para las personas con deficiencia visual: relevancia de las tecnologías de apoyo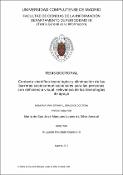 Advisors (or tutors)
Editors
Publisher
Universidad Complutense de Madrid
Abstract
A presente Tese, intitulada o "Contexto Científico Tecnológico e Eliminação das Barreiras Sociocomunicacionais para as Pessoas com Deficiência Visual: Relevância das Tecnologias de Apoio", realizada no âmbito do Curso de Doutoramento em Ciências da Informação da Facultade de Ciências da Informação da Universidade Complutense de Madrid, tem como orientador o Senhor Professor Catedrático Doutor Augusto Deodato Guerreiro, que amavelmente aceitou o pedido de orientação da Tese, considerando que a temática em apreço está diretamente relacionada com a sua área de especialidade formativa e investigacional. A opção pela investigação da temática em referência advém da minha motivação, sensibilidade e cultura de cidadania para o aprofundamento de um tema prioritário na atividade profissional que exerço, há mais de 30 anos, no âmbito da deficiência e da reabilitação. Mais acresce que os argumentos evocados decorrem, igualmente, do meu relacionamento e da minha interação permanentes com um número significativo de pessoas com deficiência, famílias, que vivenciam e testemunham esta realidade, com as Organizações Não Governamentais (ONG's) do movimento associativo das pessoas com deficiência nas quais se incluem as da área visual, que constituem forças vivas da sociedade civil, com intervenção significativa na cultura na equidade de direitos e na igualdade de oportunidades e inclusão dessas pessoas e, em particular, com pessoas com défice visual...
This thesis, titled "Technological Scientific Context and the Elimination of Social and Communication Barriers for People with Visual Impairment: Relevance of Accessibility Technologies", prepared within the PhD Course on Media and Communication Sciences of the Universidad Complutense de Madrid Media and Communication Sciences Faculty, was prepared under the supervision of Professor Augusto Deodato Guerreiro, who has kindly accepted the invitation to guide me on this Thesis, in light of his academic research and expertize on the subject. The choice of this research is related with my citizenship culture and motivation for the development of a priority topic within my job - in the context of disability and rehabilitation - on which I have been working for more than 30 years,. Additionally, my rapport and permanent interaction with a significant number of people with disability, their families - who experience and witness a different reality, Non-governmental Organizations ("NGOs") of the collective associations of people with disability, which include the visual impaired, all of which are living forces of the civil society with a significant role in establishing a culture of equity and equal opportunities for the inclusion of those persons in the society, particularly in the case of the visual impaired. On the other hand, the assistive technologies have a significant impact on the life projects of persons with visual impairment, nowadays mentioned "supporting products," and all the side-issues arising from that impact require an appropriate support, and a further evaluation of alternatives and options to enable the optimization of those products, including their cost-benefit, notably in terms of comfort and higher standards of life, in light of their contemporary social, economic and cultural contexts...
Description
Tesis inédita de la Universidad Complutense de Madrid, Facultad de Ciencias de la Información, Departamento de Periodismo III (Teoría General de la Información), leída el 15/01/2016
Collections