Publication:
La aplicación del contrato de colaboración público-privada a los programas de armamento del Ministerio de Defensa de España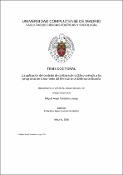 Files
Authors
Advisors (or tutors)
Editors
Publisher
Universidad Complutense de Madrid
Abstract
La colaboración público-privada (CPP) en la provisión de bienes y servicios no es nueva. Existen antecedentes remotos de formas similares de cooperación ya en el Imperio Romano, o posteriormente en la Edad Media. No obstante lo anterior, este fenómeno cobra relevancia en países de nuestro entorno a finales del siglo pasado, lo que ha conducido a su introducción formal en los ordenamientos jurídicos nacionales. Con la incorporación a nuestro Derecho de esta técnica contractual, la doctrina se ha manifestado sobre su naturaleza, oportunidad, riesgos y posible utilización. Existen opiniones de todo tipo, muchas de ellas ligadas a posiciones ideológicas de naturaleza económica. En cualquier caso, la mayoría de los estudios se centra en su posible implantación en el ámbito de la provisión y gestión de infraestructuras públicas. Nuestra investigación se centra en la posibilidad de extender esta nueva técnica contractual a la industria española de defensa, actualmente sujeta a fuertes restricciones financieras que afectan especialmente a los denominados programas especiales de armamento, que suponen una inversión por parte del Estado de un gran volumen de recursos financieros durante periodos dilatados en el tiempo, tanto para su producción como para su sostenimiento. La introducción de la CPP en la industria española de defensa podría ser un buen instrumento para el fortalecimiento de dicha industria, la adquisición y mantenimiento a largo plazo de los sistemas especiales de armamento, y la optimización de muchas de las instalaciones técnicas del Ministerio de Defensa...
Public Private Partnerships (PPP) for the provision of goods and services are not a new phenomenon at all. We may find remote records of similar ways of cooperation even in the Roman Empire, or later in the Middle Ages. Nevertheless, at the end of the 20th century we find an extended use of these techniques among our European neighbouring countries. This has triggered its formal implementation in their national laws. After our 2007 Public Sector Contracts Act, Spanish legal doctrine has elaborated on the nature, opportunity, risks and possible use of the new "PPP contract", with a great variety of approaches, most of them linked to economic ideologies. In any case, most of the studies are focused on its use for the provision and management of public infrastructures. Our research focuses on the possibility of extending the use of this new contract for the Spanish defense industry, currently facing severe financial constraints that affect especially to the procurement of high value weapon systems programs (the so-called "special weaponry programs" or SWP). Extending PPP to Spanish defense industry could be a positive alternative for strengthening our national industry and the procurement and life-cycle support to SWP, as well as the optimization of most of Spanish MoD technical facilities...
Description
Tesis inédita de la Universidad Complutense de Madrid, Facultad de Ciencias Políticas y Sociología, leída el 09-12-2015
Collections