Publication:
Dictadura modernizante, (seudo)opinión pública y dualismo cultural en la España de los años sesenta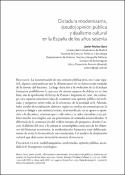 Advisors (or tutors)
Editors
Abstract
La reconstrucción de una opinión pública tuvo, en el caso español, algunas características que la diferenciaron de las democracias surgidas de la derrota del fascismo. La larga duración y la evolución de la dictadura franquista posibilitaron la apertura de ciertos espacios de debate en su fase final, tras la aprobación de la Ley de Prensa e Imprenta en 1966. Sin embargo, esos espacios estuvieron lejos de constituir una opinión pública normalizada, y surgieron, sobre todo, de la resistencia de la sociedad civil. Además, hubo niveles de socialización distintos según los medios de comunicación: la prensa se dirigía a una minoría lectora, más movilizada en su apoyo u oposición a la dictadura, mientras que la televisión y la radio abarcaban a un público mucho más amplio, con un predominio de actitudes desmovilizadas. A diferencia de la construcción del welfare europeo de posguerra, donde el acceso al disfrute del ocio y la cultura se contemplaba como uno de los objetivos del bienestar económico, la modernización franquista trató deliberadamente de evitar la formación de una ciudadanía. Un modelo de dualización cultural que dejó como herencia la naciente democracia.
In Spain, the reconstruction of public opinion had a number of characteristics that differentiated it from the democracies emerging after the defeat of fascism. Because of the longevity and evolution of Franco's dictatorship, certain spaces for debate opened up in its final phase after the adoption of the Press and Printing Law of 1966. These spaces, however, were a far cry from normalised public opinion; rather, they arose primarily out of the resistance of civil society. In addition, the levels of socialisation varied by form of media: the printed press addressed a minority readership, which was more highly mobilised in its support for or opposition to the dictatorship, while television and radio reached a much wider public, where demobilised attitudes were predominant. Unlike the construction of the post-war European welfare state in which access to leisure and culture was regarded as one of the aims of economic well-being, Francoist modernisation took deliberate steps to avoid the formation of a citizenry, leaving the legacy of a model of cultural dualism for the nascent democracy that followed.
Collections