Publication:
Reclassifying Hepatic Cell Death during Liver Damage: Ferroptosis—A Novel Form of Non-Apoptotic Cell Death?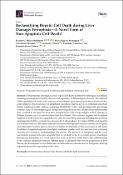 Advisors (or tutors)
Editors
Abstract
Ferroptosis has emerged as a new type of cell death in different pathological conditions, including neurological and kidney diseases and, especially, in different types of cancer. The hallmark of this regulated cell death is the presence of iron-driven lipid peroxidation; the activation of key genes related to this process such as glutathione peroxidase-4 (gpx4), acyl-CoA synthetase long-chain family member-4 (acsl4), carbonyl reductase [NADPH] 3 (cbr3), and prostaglandin peroxidase synthase-2 (ptgs2); and morphological changes including shrunken and electron-dense mitochondria. Iron overload in the liver has long been recognized as both a major trigger of liver damage in different diseases, and it is also associated with liver fibrosis. New evidence suggests that ferroptosis might be a novel type of non-apoptotic cell death in several liver diseases including non-alcoholic steatohepatitis (NASH), alcoholic liver disease (ALD), drug-induced liver injury (DILI), viral hepatitis, and hemochromatosis. The interaction between iron-related lipid peroxidation, cellular stress signals, and antioxidant systems plays a pivotal role in the development of this novel type of cell death. In addition, integrated responses from lipidic mediators together with free iron from iron-containing enzymes are essential to understanding this process. The presence of ferroptosis and the exact mechanisms leading to this non-apoptotic type of cell death in the liver remain scarcely elucidated. Recognizing ferroptosis as a novel type of cell death in the liver could lead to the understanding of the complex interaction between different types of cell death, their role in progression of liver fibrosis, the development of new biomarkers, as well as the use of modulators of ferroptosis, allowing improved theranostic approaches in the clinic.
Collections