Publication:
High Mutational Heterogeneity, and New Mutations in the Human Coagulation Factor V Gene. Future Perspectives for Factor V Deficiency Using Recombinant and Advanced Therapies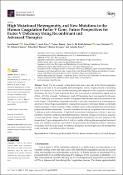 Advisors (or tutors)
Editors
Abstract
Factor V is an essential clotting factor that plays a key role in the blood coagulation cascade on account of its procoagulant and anticoagulant activity. Eighty percent of circulating factor V is produced in the liver and the remaining 20% originates in the α-granules of platelets. In humans, the factor V gene is about 80 kb in size; it is located on chromosome 1q24.2, and its cDNA is 6914 bp in length. Furthermore, nearly 190 mutations have been reported in the gene. Factor V deficiency is an autosomal recessive coagulation disorder associated with mutations in the factor V gene. This hereditary coagulation disorder is clinically characterized by a heterogeneous spectrum of hemorrhagic manifestations ranging from mucosal or soft-tissue bleeds to potentially fatal hemorrhages. Current treatment of this condition consists in the administration of fresh frozen plasma and platelet concentrates. This article describes the cases of two patients with severe factor V deficiency, and of their parents. A high level of mutational heterogeneity of factor V gene was identified, nonsense mutations, frameshift mutations, missense changes, synonymous sequence variants and intronic changes. These findings prompted the identification of a new mutation in the human factor V gene, designated as Jaén-1, which is capable of altering the procoagulant function of factor V. In addition, an update is provided on the prospects for the treatment of factor V deficiency on the basis of yet-to-be-developed recombinant products or advanced gene and cell therapies that could potentially correct this hereditary disorder.
El factor V es un factor de la coagulación que desempeña un papel clave en la cascada de la coagulación sanguínea por su actividad procoagulante y anticoagulante. El 80% del factor V circulante se produce en el hígado y el 20% restante en los gránulos de las plaquetas. En los seres humanos, el gen del factor V tiene un tamaño de unos 80 kb, se localiza en el cromosoma 1q24.2, y su cDNA tiene una longitud de 6914 pb. Además, se han notificado cerca de 190 mutaciones en el gen. La deficiencia del factor V es un trastorno de la coagulación autosómico recesivo asociado a mutaciones en el gen del factor V. Este trastorno hereditario de la coagulación se caracteriza clínicamente por un espectro heterogéneo de manifestaciones hemorrágicas que van desde hemorragias de las mucosas o de los tejidos blandos hasta hemorragias potencialmente fatales. El tratamiento actual de esta enfermedad consiste en la administración de plasma fresco congelado y de concentrados de plaquetas. Este artículo describe los casos de dos pacientes con deficiencia grave de factor V y de sus progenitores. Se identificó un alto grado de heterogeneidad mutacional del gen del factor V, mutaciones sin sentido, mutaciones de cambio de marco de lectura, variantes de secuencia sinónima y cambios intrónicos. Se ha descrito por primera vez una nueva mutación en el gen de factor V designada como Jaén-1, que es capaz de alterar la función procoagulante del factor V. Además, se ofrece una actualización sobre las perspectivas de tratamiento de la deficiencia de factor V a partir de productos recombinantes, en vías de desarrollo, o de las nuevas terapias génica y celular que podrían corregir este trastorno hereditario
Collections