Publication:
Neurodegeneración ocular en enfermedades neuromusculares : relación entre el grado de discapacidad neurológica y la afectación visual en pacientes con Ataxia de Friedreich o Esclerosis Lateral Amiotrófica Ocular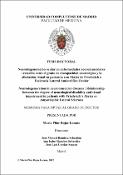 Authors
Editors
Publisher
Universidad Complutense de Madrid
Abstract
Las enfermedades neuromusculares son un conjunto enfermedades neurológicas crónicas, de naturaleza progresiva. La Ataxia de Friedreich (FRDA) y la Esclerosis Lateral Amiotrófica (ELA), son dos tipos de estas enfermedades que afectan predominantemente a la médula espinal, y, por tanto, la afectación neurológica está lejos de la vía visual. Además, los síntomas oftalmológicos son escasos o no aparecen, por lo que existen pocos estudios que analicen los cambios visuales en estos pacientes e, incluso en ocasiones, con resultados contradictorios. Dado que la retina es considerada una ventana al resto del sistema nervioso, podría servir como un biomarcador del daño neuronal que ayudase tanto en el diagnóstico, como en el seguimiento de la progresión de cada paciente, así como para la valoración de la efectividad de los distintos tratamientos. Objetivos. Este estudio analiza los cambios que se producen en la vía visual anterior en pacientes con FRDA o ELA tanto a nivel anatómico como funcional, así como la evolución de estos según avanza la patología, para determinar si existe progresión detectable. También estudia si estos cambios retinianos tienen una correlación histológica empleando el modelo animal de ELA TG(SOD1G93A)...
Neuromuscular diseases are a group of chronic progressive neurological illnesses. Friedreich's Ataxia (FRDA) and Amyotrophic Lateral Sclerosis (ALS) are two types of these diseases that predominantly affect the spinal cord, and therefore, the neurological involvement is far from the visual pathway. Moreover, ophthalmological symptoms are scarce or absent. Consequently, there are few studies that analyse visual changes in these patients, and they sometimes produce contradictory results.Since the retina is considered a window to the rest of the nervous system, it could serve as a biomarker of neuronal damage that would help diagnose and monitor each patient's progression, and it also assesses the effectiveness of different treatments. Objectives. This study analyses whether changes occur in the anterior visual pathway of patients with FRDA or ALS at both functional and anatomical levels. Furthermore, it examines the evolution of these changes as the pathology progresses in order to determine whether there is a detectable progression of the disease in the anterior visual pathway. In addition, this work also studies whether these retinal changes have a histological correlation using the ALS TG(SOD1G93A) animal model...
Description
Tesis inédita de la Universidad Complutense de Madrid, Facultad de Medicina, Departamento de Inmunología, Oftalmología y Otorrinolaringología, leída el 16-03-2022
Collections