Publication:
Optimización de la producción de áridos procedentes de canteras con frentes complejos: cantera de Touro, A Coruña (España)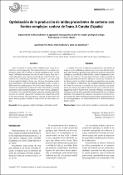 Advisors (or tutors)
Editors
Publisher
Sociedad Geológica de España
Abstract
La cantera de Touro (A Coruña) es una explotación a cielo abierto de la que se extraen anfibolitas y esquistos para su uso como árido de machaqueo. Estos materiales geológicos han sufrido una evolución metamórfica compleja, lo que dificulta su identificación y posterior separación en cantera. Por este motivo, es necesario buscar técnicas analíticas sencillas de campo y laboratorio que permitan identificar y caracterizar el material en los frentes y evaluar su calidad en relación a sus posteriores usos en obra. Con este objetivo, se identificaron las variedades litológicas presentes en los frentes de extracción y se estudió su dureza superficial, porosidad, expresada como la capacidad de absorción del agua, y velocidad de propagación de ondas P. A partir de los resultados obtenidos, se concluyó que la textura, tamaño de grano, porosidad y dureza superficial, son los mejores indicadores de la calidad de los materiales y se propone un sistema de sectorización de los frentes de explotación para un mejor aprovechamiento de los recursos geológicos y un control adecuado de la calidad del producto final en cantera.
Touro (A Coruña) is a quarry where amphibolite and schist are exploited as crushed aggregates. These materials formed in a complex metamorphic system and it is difficult to classify and separate them. For this reason, affordable techniques that can be used in quarry faces and in simple laboratories were searched to identify and characterize the stone materials. This characterization will help to evaluate "in situ" the quality of stone materials related to future uses. We have developed a petrological classification of the stone materials exploited in Touro. In order to differentiate the quality grades of the Touro quarry lithologies, the classification was completed by studying the stone surface hardness, porosity, expressed as water absorption capacity, and P-wave velocity propagation. On this basis, we concluded that texture, grain size, porosity and surface hardness are valuable "quarry faces" parameters to evaluate the quality of the stone materials. We also propose to separate the materials of the quarry faces by grades of quality to better control the final quarry product.
Collections