Publication:
Estrategias de poder en el ámbito universitario. Una revisión con perspectiva de género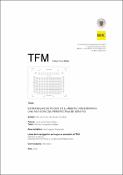 Advisors (or tutors)
de la Colina Tejeda, Laura
Editors
Abstract
El presente Trabajo de Fin de Máster explora la construcción cultural del sujeto mujer en el contexto artístico para tratar de analizar las estrategias de poder que se dan dentro de la comunidad artística universitaria. En este análisis se han revisado los distintos tipos de violencia para poder identificar las menos visibles a través de imágenes que se emplean en la formación artística universitaria y que inundan los espacios físicos y simbólicos. Las imágenes construyen un imaginario colectivo que replica de forma sistémica la violencia sobre la mujer. Esta violencia se infringe en acciones que van desde la elección del profesorado que aparecerá en la orla, hasta el recipiente en el que sirven café. Durante toda la investigación, se ha tratado de enlazar la revisión crítica de la historia con datos de actualidad para tratar de entender los comportamientos generalizados que se dan en la Facultad de Bellas Artes de la Universidad Complutense de Madrid y que motivaron esta investigación que reclama, amparada por la ley vigente, la inserción de perspectiva de género de forma transversal en todos sus estudios.
This Final Masters project explores women subject cultural construction in an artistic context in order to analise the power strategies that occur within the university art community. In this study, different kinds of violence have been reviewed aiming to identify the ones that are less visible through the images that are used in university art education, and that flood both the physical and symbolic places. These images form a collective imagery which replicates violence against women. This violence would be reflected in actions and decisions ranging from the choice of teacher who will appear in the graduation photograph to the container in which the coffee is served. During this research I have tried to link the past critical review of the history with current data with the aim to understand generalised behaviours that take place in the Fine Arts Faculty of the Complutense University of Madrid.