Publication:
Acción y subjetividad política en el pensamiento de Hanna Arendt y Norbert Lechner: hacia la articulación de una propuesta de politización en la vida cotidiana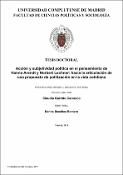 Files
Authors
Advisors (or tutors)
Editors
Publisher
Universidad Complutense de Madrid
Abstract
Las contribuciones teóricas de Hannah Arendt y de Norbert Lechner, coinciden en el diagnóstico y descripción de un anquilosamiento de las instituciones políticas; de una crisis de representación y legitimidad; de una burocratización de los partidos políticos disociados de la experiencia de la vida cotidiana de sus electores; de la prevalencia de una visión conservadora de la democracia; entre otros aspectos. Centrándonos en una doble valoración de dichas contribuciones, vale decir; asumiendo por un lado sus aspectos críticos de la política institucional y el sistema democrático liberal, pero también aprehendiendo las intuiciones que esas críticas suponen, en el sentido de apostar por una política que recupere las nociones de libertad e igualdad, es que nos proponemos elaborar una integración conceptual reflexiva de dimensiones no incorporadas en la política – institucional – que nos permita comprender los fenómenos actuales de politización colectiva – no institucional –. La revisión conceptual de la propuesta de acción política de Hannah Arendt, responde –siguiendo a Vallespín (1990) – a su rigor analítico y a su capacidad de articulación coherente de discurso, tanto para sus contemporáneos como para doctrinas posteriores, lo que implica referirse a la vigencia de los planteamientos arendtianos y considerarlos un clásico de la teoría política, en tanto su lectura continúa otorgando herramientas para la comprensión de fenómenos políticos actuales, particularmente en lo que refiere a la acción de hombres y mujeres en el espacio público mediante la participación en la palabra y la acción. Paralelamente, el estudio de la subjetividad política en el pensamiento de Norbert Lechner, remite a su preocupación por la construcción de un orden democrático "posible y deseado"; en este sentido, el autor recupera contenidos normativos de la política; y es la originalidad de su propuesta acerca de las mediaciones entre Estado y los procesos de subjetivación en la vida cotidiana – en el contexto latinoamericano – los que posibilitan una reflexión respecto de la construcción colectiva del sentido de la política. Su importancia radica también en la socialización del pensamiento de Lechner en la teoría política europea, particularmente española, que asume hoy los desafíos de interpretar una crisis económica, social y política, al mismo tiempo que surge en el seno de una de sus plazas el grito de rebelión del movimiento de los indignados del 15-M. De este modo, el recorrido por el pensamiento crítico latinoamericano de Lechner, puede entregar claves de lectura de este nuevo escenario...
Both Hannah Arendt and Norbert Lechner's theoretical contributions coincide in their diagnosis and description of the stagnation of political institutions; of a crisis of representation and legitimacy; of the bureaucratization of political parties completely detached from the everyday-life experience of their voters; of the prevalence of conservative conceptions of democracy, among many other aspects. This study focuses on a double appraisal of these contributions, - that is, accepts both authors' criticisms of institutional politics and the liberal democratic system while also apprehending the intuitions implied by these criticisms (insofar as they propose a form of politics that reclaims the notions of freedom and equality). Through this appraisal we attempt a reflexive conceptual integration of dimensions which lie outside of – institutional – politics, in an effort to understand contemporary phenomena of collective non-institutional politicization. The basic concepts of Hannah Arendt's political proposal are revised on the grounds of its rigorously analytical stance and of its capacity for the coherent articulation of discourse, which have elicited debate with both its contemporaries and with latter doctrines (Vallespín, 1990). This revision implies referring to the present-day validity of Arendtian positions, and assessing her insights as classic works of political theory. Her work continues to provide contemporary readers with tools for an understanding of contemporary political phenomena, particularly about men and women's agency in public space through participating in words and action. At the same time, the study of political subjectivity in Norbert Lechner's draws on his concern about constructing a "possible and desired" democratic order; in this respect, the author reclaims normative contents of politics, and it is the very originality of his proposal about mediations between the state and subjectification in everyday life – in the Latin American context - that allow us to reflect about the collective construction of meaning in politics. The importance of Lechner's work also lies in its socialization within European (particularly Spanish) political theory, which today faces the challenge of interpreting an economic, social and political crisis while the cry of rebellion of the indignados of the 15th of May resounds at the very core of one of its main public squares. An overview of Lechner's critical Latin American thought can provide interpretive keys for this new scenario...
Description
Tesis de la Universidad Complutense de Madrid, Facultad de Ciencias Políticas y Sociología, leída el 07/07/2017
Collections