Publication:
Has the EU Takeover Directive Improved Minority Shareholder Protection? The Spanish Evidence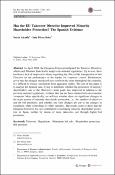 Authors
Advisors (or tutors)
Editors
Abstract
In April 2004, the European Union promulgated the Takeover Directive, which each Member State had to adapt to its national regulations. Up to now, there has been a lack of empirical evidence regarding the effect of the transposition of this Directive on the performance of the market for corporate control. Furthermore, given that the changes introduced have not been the same throughout the countries, it is difficult to extract conclusions from aggregate studies. The aim of this paper is to analyse the Spanish case, trying to determine whether the protection of minority shareholders, one of the Directive's main goals, has improved in relation to the previous national regulations, a matter that has not been studied from an economic viewpoint. More specifically, we will test whether there are significant changes in the main proxies of minority shareholder protection, i.e., the number of takeovers and the bid premiums, and whether any such changes are due to the changes in regulation, while controlling for other variables. The results seem to show that the European Directive has not contributed to increasing minority shareholder protection in Spain, neither by means of more takeovers, nor through higher bid premiums.
Collections