Publication:
Dinámicas de los procesos proactivos y reactivos en el cambio de tarea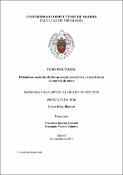 Authors
Advisors (or tutors)
Editors
Publisher
Universidad Complutense de Madrid
Abstract
Un supuesto común ha sido que el control ejecutivo frontal se requiere principalmente para la detección del objetivo (Posner y Petersen en Ann Rev Neurosci13: 25–42, 1990). Alternativamente, el control cognitivo también se ha relacionado con la actualización anticipada de la información del conjunto de tareas, un punto de vista que destaca los procesos de control proactivo. Las redes corticales frontoportietales contribuyen tanto al control proactivo como a la detección de estímulos reactivos, aunque su dinámica de activación aún está en gran parte inexplorada. Para examinar esto, analizamos las activaciones de magnetoencefalografía (MEG) obtenidas para las señales anticipatorias y para los estimulos objetivo en un análogo de identificación de tareas de la prueba de clasificación de tarjetas de Wisconsin. Nuestros resultados revelaron activaciones MEG rápidas, transitorias y en gran parte específicas a los cambios en regiones frontoparietales y cingulo-operculares en la anticipación de las tarjetas de destino, que incluyen (1) señales MEG precoces (100–200 ms) en regiones visuales, temporoparietales y cortezas prefrontales del hemisferio derecho (surco de calcarina, precuneus, giro frontal inferior, ínsula anterior y giro supramarginal); y (2)señales MEG posteriores en la ínsula anterior derecha y posterior (200–300 ms) y la unión temporo-parietal izquierda (300–500 ms). En todos los casos, se observó una mayor intensidad de la señal MEG en las señales de cambio en relación con las condiciones de repetición. Además, los costes de reinicio de comportamiento y las puntuaciones de la prueba de memoria de trabajo (dígitos hacia adelante) correlacionaron con las activaciones MEG anticipatorias en los nodos claves de la red frontoparietal...
Traditionally, a common assumption has been that frontal executive control is required primarily for target detection (Posner and Petersen in Ann Rev Neurosci 13:25-42, 1990). Alternatively, cognitive control has also been linked to the anticipated updating of task set information, a point of view that highlights proactive control processes. Frontoportietal cortical networks show both proactive control and the detection of reactive stimuli, although their activation dynamics are still largely unexplored. To see this, we analyzed magnetoencephalography (MEG) activations for the anticipation signals and for the estimation of the objectives in an analogous identification task of the Wisconsin card classification test. Our results revealed fast and transient MEG activations in the frontoparietal and cingulo-opercular networks in the anticipation of target cards, which include (1) early MEG signals (100-200 ms) in visual, temporoparietal, and prefrontal cortices of the right hemisphere; and (2) later MEG signals in the right anterior and posterior insula (200-300 ms) and the left temporo-parietal junction (300-500 ms). In all cases, a greater MEG activity was observed in the anticipatory cue of the switch condition. In addition, the behavior reset steps and the working memory capacity test scores were correlated with MEG activations at the key nodes of the frontoparietal network...
Description
Tesis de la Universidad Complutense de Madrid, Facultad de Psicología, leída el 17-12-2018
Collections