Publication:
Acerca de la problemática en la transmisión de los tropos del Gloria: la vida de Laus tua Deus, un ejemplo temprano en un manuscrito gerundense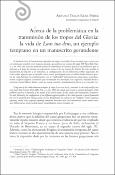 Authors
Advisors (or tutors)
Editors
Publisher
Instituto Complutense de Ciencias Musicales
Abstract
A través de uno de los primeros ejemplos de tropo conocidos (La us tua deus), que cuenta con un testimonio español en el tropario-prosario gerundense de inicios del siglo XII Paris BibL Nat. n. a. lato 495, este artículo pretende poner de manifiesto de manera práctica los problemas que se plantean a la hora de encarar un repertorio como el de los tropos del Gloria. En este sentido, la transmisión, la filiación y, en definitiva, la configuración de los diferentes perfiles regionales del canto serán aspectos que se situarán como marco privilegiado para el análisis desde distintos puntos de vista. Además, en confrontación con la "estabilidad" del repertorio gregoriano, inmediatamente surgirán algunas cuestiones que necesitarán ser abordadas con urgencia: oralidad frente a escritura, fondo bíblico frente a otro de nueva creación, estandarización frente a re-creación, etc. [ABSTRACT]Using one of the earliest-known examples of trope (Laus tua Deus), conserved in the early-twelfth century troper from Girona (Paris Bibl. Nat. n. a. lat. 495), this article aims to give a practical description of the problems posed by a repertory of the nature of the Gloria tropes. In this respect, the transmission, characteristics and, ultimately, the configuration of the different regional profiles of this chant provide a special framework for it to be analysed from various points of view. Furthermore, in contrast to the "stability" of the Gregorian repertory, certain issues urgently requiring immediate discussion arise: oral transmission versus written notation, biblical versus newly created sources, standardisation versus recreation, etc.
Collections