Publication:
Universos fantásticos de inspiración lovecraftiana en videojuegos survival horror. Un estudio de caso de P.T (Silent Hills)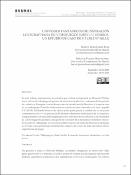 Advisors (or tutors)
Editors
Publisher
Universitat Autònoma de Barcelona
Abstract
En este trabajo presentamos un estudio que rastrea la impronta de Howard Phillips Lovecraft en el videojuego de género de terror (survival horror), así como de los puntos de contacto y divergencia entre la experiencia fantástica en la literatura y la que se vive en un videojuego. Para ello realizamos un estudio de caso centrado en el teaser jugable P.T. (2014). Mediante técnicas de observación participante y análisis de la recepción contrastamos el nivel de presencia de distintos elementos definitorios de lo fantástico comparándolos con una tabla inspirada en los universos lovecraftianos. Los resultados de la investigación apuntan a un ajuste de la noción de lo fantástico en medios interactivos como el videojuego. Los recursos audiovisuales, así como las mecánicas de juego, se revelan como poderosas herramientas capaces de evocar la más aterradora de las experiencias de juego.
We present a study of Howard Phillips Lovecraft´s imaginary in horror the video game genre (survival horror), as well as points of contact and divergence between the fantastic experience in literature and experiences we live in a video game. To achieve this objective we carry out a case study focusing on the playable teaser P.T. (2014). Through participant observation techniques and reception analysis we contrast the level of presence of different definitional elements of fantasy and compare them to a table inspired by the Lovecraftian uncanny universe. Results show an adjustment to the notion of the fantastic in video games. Audiovisual resources and game mechanics are revealed as a powerful tool capable of evoking the scariest of gaming experiences.
Collections