Publication:
Impact of Nutrition on Pulmonary Arterial Hypertension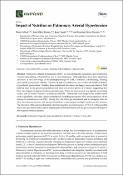 Advisors (or tutors)
Editors
Abstract
Pulmonary arterial hypertension (PAH) is characterized by sustained vasoconstriction, vascular remodeling, inflammation, and in situ thrombosis. Although there have been important advances in the knowledge of the pathophysiology of PAH, it remains a debilitating, limiting, and rapidly progressive disease. Vitamin D and iron deficiency are worldwide health problems of pandemic proportions. Notably, these nutritional alterations are largely more prevalent in PAH patients than in the general population and there are several pieces of evidence suggesting that they may trigger or aggravate disease progression. There are also several case reports associating scurvy, due to severe vitamin C deficiency, with PAH. Flavonoids such as quercetin, isoflavonoids such as genistein, and other dietary polyphenols including resveratrol slow the progression of the disease in animal models of PAH. Finally, the role of the gut microbiota and its interplay with the diet, host immune system, and energy metabolism is emerging in multiple cardiovascular diseases. The alteration of the gut microbiota has also been reported in animal models of PAH. It is thus possible that in the near future interventions targeting the nutritional status and the gut dysbiosis will improve the outcome of these patients.
Collections