Publication:
A BODIPY-Based Fluorescent Sensor for Amino Acids Bearing Thiol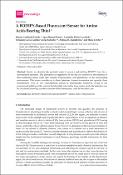 Advisors (or tutors)
Editors
Abstract
Herein, we describe the synthetic route to access a red-emitting BODIPY from its α-diformylated precursor. The photophysical signatures of this dye are sensitive to the presence of thiol-containing amino acids (like cysteine, homocysteine, and glutathione) in the surrounding environment. This sensor provides up to three detection channels to monitor and quantify these biomolecules, even at low concentrations (down to micromolar). Moreover, owing to the pronounced splitting of the spectral band profile induced by these amino acids, the detection can be visualized following just the evolution of the fluorescence color by the naked eye.
Collections