Publication:
El azul de esmalte: color y materia en la obra de El Greco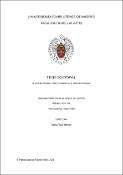 Authors
Advisors (or tutors)
Editors
Publisher
Universidad Complutense de Madrid
Abstract
Doménikos Theotokópoulos, El Greco (1541-1614), es uno de los artistas más controvertidos y desconocidos del Renacimiento. La escasez de datos que se conservan sobre su vida y formación artística, no resta importancia al corpus de obras que de él se conservan, a través del cual toma, mezcla y transforma cada uno de los estilos de las escuelas que le sirvieron de base para configurar su personal estilo. El tema desarrollado en la presente Tesis Doctoral, surge del interés por el estudio de la paleta del pintor con motivo del contacto directo con sus obras durante una estancia en el Museo del Greco de Toledo. Aquí se pudo observar directamente el comportamiento de los cuadros y de sus materiales constitutivos, lo que llevó a la formulación de una serie de hipótesis sobre la vinculación del empleo del color, la paleta del pintor, la evolución de su obra y el proceso de ejecución de las pinturas. Fue a partir de aquí y del artículo publicado por Mª Dolores Fúster Sabater (2000) sobre la obra La Adoración de los Reyes, cuando se concretó el tema de investigación, centrándolo en el color azul de esmalte...
Domenikos Theotokopoulos, El Greco (1541-1614), was one of the most controversial and unknown artists of the Renaissance. The scarcity of extant data about his life and artistic training does not diminish the importance of the body of his surviving work, through which he takes, mixes and transforms each of the styles of the schools that served him as a basis for shaping his personal style.The theme developed in the present doctoral thesis arose from an interest in studying the painter's palette following a period of direct contact with his works during a stay at the Museum of El Greco in Toledo. Here it was possible to directly observe the behaviour of the paintings and their constituent materials, which led to the formulation of a series of hypotheses on the link between the use of colour, the painter's palette, the evolution of his work, and the process of execution of the paintings. It was following this, and based on the article published by Mª Dolores Fúster Sabater (2000) on the work The Adoration of the Magi, that the subject of this research became more specific, focusing on the colour blue smalt...
Description
Tesis inédita de la Universidad Complutense de Madrid, Facultad de Bellas Artes, leída el 19/04/2021. Tesis retirada por expreso deseo de la autora
Collections