Publication:
Dioniso en Diodoro Sículo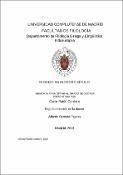 Files
Authors
Advisors (or tutors)
Editors
Publisher
Universidad Complutense de Madrid
Abstract
La presente tesis trata sobre la figura del dios Dioniso en la obra del historiador Diodoro Sículo y, por extensión, en su época. Aunque este autor pertenece al siglo I a.C., sus fuentes se remontan, al menos, a dos siglos atrás, por lo que el periodo que se ha estudiado se corresponde casi exactamente con el periodo helenístico. En la introducción se ha realizado una biografía del autor y un elenco de las fuentes que utilizó para la composición de la obra, además de establecer cuál era la situación de las religiones dionisiaca y órfica en esa época. El cuerpo central de la tesis se ha consagrado al estudio de los rasgos de Dioniso tal como lo ha caracterizado Diodoro. Como conclusiones del estudio se ha obtenido que el retrato de Dioniso está fuertemente marcado por el evemerismo y por la influencia egipcia, y que se ha producido un sincretismo entre el dios dionisiaco y el órfico. [ABSTRAC]This work deals with the god Dionysos in Diodorus Siculus' work and time. Although this author belongs to the 1st century B.C., his sources go back to the 3th century B.C., corresponding the Hellenistic time. In the introduction a biography of the author and a list of his sources used for the composition of his work have been realized. Also, the situation of orphic and Dionysiac religion in this time has been established. The main part of this work deals with the study of the god Dionysos characterized by Diodorus. The conclusions are that Dionysos' portrait is influenced by evemerism and Egyptian beliefs and that a syncretism between Orphic and Dionysiac god has been produced.
Description
Tesis inédita de la Universidad Complutense de Madrid, Facultad de Filología, Departamento de Filología Griega y Lingüística Indoeuropea, leída el 05-12-2012
Collections