Publication:
Sector-based Fresnel zone plate with extended depth of focus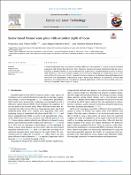 Advisors (or tutors)
Editors
Abstract
A Sector-based Fresnel zone plate consists of a binary diffractive lens composed of a mosaic of sectors of Fresnel zone plates with different focal distances. When these focal distances are linearly distributed within the sectors, dual focus is obtained. Besides, we explore the possibility to generate an extended depth-of-focus lens by using a cubic distribution of the focal distances assigned to the sectors and optimizing the weight factors given to the terms of the cubic polynomial. Finally, numerical simulations based on the Rayleigh-Sommerfeld approach are carried out and experimental verifications by using a Spatial Light Modulator are performed, showing high agreement. The proposed kind of zone plate has potential applications in different research fields such as microscopy, lithography, data storage, or imaging.
Description
© 2022 The Authors. This work has been funded by project Retos Colaboración 2019 "Teluro" RTC2019-007113–3 of the Ministerio de Economía y Competitividad and the European Union, European funds for regional development and by project Gobierno de Aragón-Fondo Social Europeo (Grupo de Tecnología Óptica Láser— E44_20R), and European Fund for Regional Development (EFRD-FEDER, EU) and the Spanish Government's Agencia Estatal de Investigación (AEI) through the grant DPI2016-75272-R.
Collections