Publication:
Evaluación clínica de diferentes protocolos en blanqueamiento dental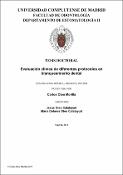 Authors
Advisors (or tutors)
Editors
Publisher
Universidad Complutense de Madrid
Abstract
Los posibles factores que pueden producir alteraciones en el color de los dientes son externos e internos. Los factores externos afectan a la superficie externa del diente y los factores internos están relacionados con modificaciones en la estructura interna del diente. La técnica de blanqueamiento domiciliario utiliza peróxido de carbamida en concentraciones del 10% al 16% o peróxido de hidrógeno en concentraciones bajas del 6%. Estas técnicas son conocidas como at-home o domiciliarias porque suelen realizarse en casa y la frecuencia, momento y número de aplicaciones varían dependiendo la concentración del gel. JUSTIFICACIÓN: Hoy en día todos los pacientes quieren y en parte necesitan, tener una sonrisa lo más lucida posible, es por ello que el tratamiento de blanqueamiento dental es de vital importancia en muchos de nuestros casos. Es por ello que consideramos de vital importancia, la creación de protocolos en el tratamiento de blanqueamiento domiciliario, para que todos los profesionales actúen de la misma manera, en base a estudios, como el que aquí se propone. OBJETIVOS. Objetivos generales: 1. Evaluar clínicamente la eficacia de dos productos para realizar un tratamiento de blanqueamiento dental y compararla entre ambos: peróxido de carbamida al 16% y peróxido de hidrógeno al 6%. 2. Evaluar qué protocolo de aplicación resulta más eficiente en nuestra práctica diaria, aplicar el gel cada veinticuatro horas o aplicarlo cada cuarenta y ocho horas...
The possible factors that can cause alterations in the color of the teeth are external and internal. External factors affect the external surface of the tooth and internal factors are related to changes in the internal structure of the tooth. The household bleaching technique uses carbamide peroxide in concentrations of 10% to 16% or hydrogen peroxide in low concentrations of 6%. These techniques are known as at-home or home because they are usually performed at home and the frequency, timing and number of applications vary depending on the concentration of the gel. JUSTIFICATION: Nowadays, were esthetics has a great importance, patients want a smile as bright as possible, which is why the treatment of teeth whitening is of great importance in many of our cases. That is why we consider important, the design of protocols in the treatment of home bleaching, so that all professionals have the same guidelines, based on studies, such as the one proposed here. OBJECTIVES. General objectives: 1. Clinically evaluate the efficacy of two products to perform a tooth whitening treatment and compare both of them: 16% carbamide peroxide and 6% hydrogen peroxide. 2. Evaluate which protocol of action is most efficient in our daily practice, the appliance of the gel every twenty-four hours or every forty-eight hours...
Description
Tesis inédita de la Universidad Complutense de Madrid de la Facultad de Odontología del Departamento de Estomatología II (Odontología Conservadora ), leída el 24 de Noviembre de 2017.
Collections