Publication:
Post-editorial of the special issue "Wormholes in space-time: theory and facts"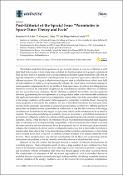 Advisors (or tutors)
Editors
Description
© 2020 MDPI F.S.N.L. acknowledges support from the Fundacao para a Ciencia e a Tecnologia (FCT) Scientific Employment Stimulus contract with reference CEECIND/04057/2017, and thanks the FCT research projects No. UID/FIS/04434/2020 and No. CERN/FIS-PAR/0037/2019. D.R.G. is funded by the Atraccion de Talento Investigador programme of the Comunidad de Madrid (Spain) No. 2018-T1/TIC-10431, and acknowledges further support from the Ministerio de Ciencia, Innovacion y Universidades (Spain) project No. PID2019-108485GB-I00/AEI/10.13039/501100011033, and the FCT project No. PTDC/FIS-PAR/31938/2017. This work is supported by the Spanish project FIS2017-84440-C2-1-P (MINECO/FEDER, EU), the project H2020-MSCA-RISE-2017 Grant FunFiCO-777740, the project PROMETEO/2020/079 (Generalitat Valenciana), the FCT project PTDC/FIS-OUT/29048/2017, and the Edital 006/2018 PRONEX (FAPESQ-PB/CNPQ, Brazil, Grant 0015/2019). This article is based upon work from COST Actions CA15117 and CA18108, supported by COST (European Cooperation in Science and Technology).
Collections