Publication:
Memes, reciclajes y escritura creativa digital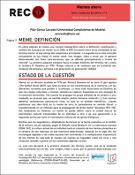 Authors
Advisors (or tutors)
Editors
Abstract
En estas páginas se realiza una revisión bibliográfica sobre la definición, clasificación y análisis del concepto de meme, "una imagen, vídeo o texto, por lo general distorsionado con fines caricaturescos, que se difunde principalmente a través de Internet", según el DRAE. Históricamente, 'Meme' es un término acuñado en 1976 por Richard Dawkins en su obra El gen egoísta (The Selfish Gene) (2017), que tiene su base en las transmisiones de la memoria y en las diferentes variantes que pueden ir triunfando. La tesis más importante de Dawkins es que los rasgos culturales, o memes, también se replican; basándose en una analogía de la evolución darwiniana basada en los genes. En la segunda parte del cuaderno se relacionan los memes con los cuentos tradicionales por su inmensa capacidad para la transmisión cultural, a partir de la monografía de García Carcedo titulada Entre brujas y dragones. Travesía comparativa por los cuentos del mundo (Verbum, 2020).
In these pages, a bibliographic review is carried out on the definition, classification and analysis of the concept of meme, "an image, video or text, usually distorted for caricatured purposes, which is disseminated mainly through the Internet," according to the DRAE. Historically, 'Meme' is a term coined in 1976 by Richard Dawkins in his work The Selfish Gene (2017), which has its basis in the transmissions of memory and the different variants that can be successful. Dawkins' most important thesis is that cultural traits, or memes, are also replicated; based on an analogy of Darwinian evolution based on genes. In the second part of the notebook, memes are related to traditional stories because of their immense capacity for cultural transmission, based on Garcia Carcedo's monograph entitled Among Witches and Dragons. Comparative journey through the tales of the world (Verbum, 2020). Translated with www.DeepL.com/Translator (free version)
Description
Cuadernos del ahora es una serie de publicaciones breves sobre conceptos muy actuales para darlos a conocer y ofrecer un acercamiento a la información académica más relevante. Cada Cuaderno consiste en una definición del concepto, una sistematización del estado de la cuestión y una bibliografía esencial comentada. Se enmarca en el proyecto del plan estatal de investigación científica y técnica y de innovación REC-LIT. Reciclajes culturales: transliteraturas en la era postdigital (RTI2018-094607-B-I00 en la Universidad Complutense de Madrid.